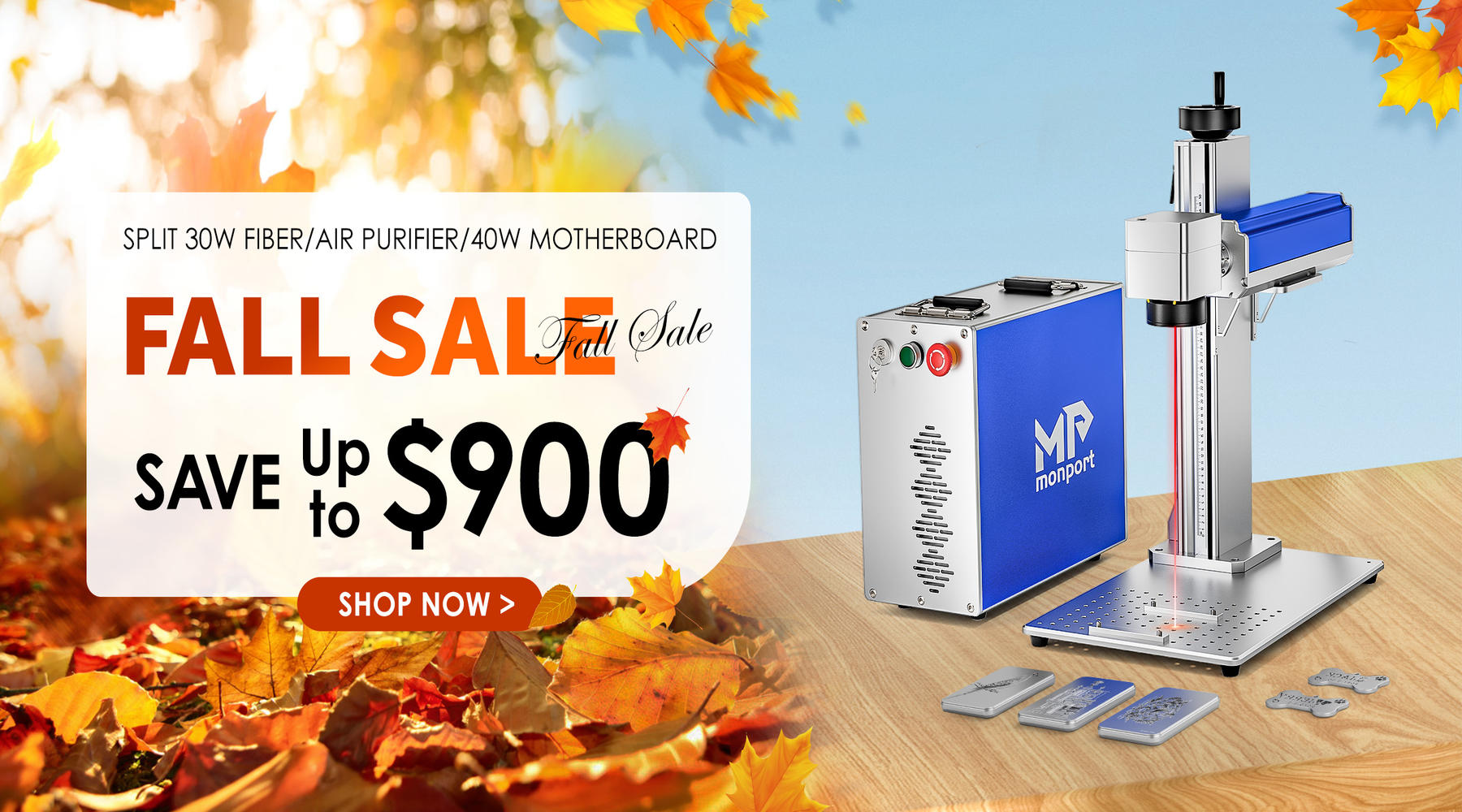 Upgrade Your Workspace This Fall with Monport's Exclusive Prices
Discover the highly anticipated Monport Fall Sale, taking place from September 28 to October 6. Customers can access unbeatable discounts on high-quality metal laser engraver machine, air purifiers, and motherboards.
Discover our Promotional Products
Save $900 for Monport 30W (5.9" x 5.9") Fiber Laser Engraver & Marking Machine.
Save $40 for Monport Air Purifier.
Save $60 for Monport 40W Motherboard.
Click here to visit the Monport promotion page.
Transform Your Engraving Experience with the Monport Fall Sale
Are you in the market for high-quality laser engraving machines, air purifiers, or motherboards? If so, you're in luck! Monport Laser is thrilled to announce its highly anticipated Fall Sale, where customers can take advantage of unbeatable discounts on a range of cutting-edge products.
At Monport Laser, we understand that investing in new technology can be a significant decision for businesses and individuals. That's why our Fall Sale is such a remarkable opportunity to own the best-in-class Monport 30W Fiber Laser Engraver & Marking Machine with FDA Approval, along with other essential accessories.
Monport Flagship Product: 30W Fiber Laser Engraver
Let's start by exploring the Monport 30W Fiber Metal Laser Engraver Machine, our flagship product of the Fall Sale. This state-of-the-art machine is designed to deliver exceptional marking accuracy and high-speed laser beams enabled by Sino-Galvo technology. With a Raycus fiber laser source, this machine can mark various metals including stainless steel, gold, silver, and brass. Whether you're a small business owner, a creative professional, or an enthusiast, this engraver is sure to elevate your projects to new heights. And with a remarkable discount of $900, there has never been a better time to invest in this industry-leading engraver.
Top-Quality Monport Accessories
In addition to the engraver, we are also offering discounts on the Monport Air Purifier Laser Fume Extractor. This industrial-grade fume extractor is an essential device that effectively removes smoke and dust generated during CNC machine operations and laser engraving processes. By ensuring a clean and safe working environment, you can focus on what matters most – creating remarkable pieces with precision. Take advantage of a $40 discount and make your workspace healthier and more productive.
But that's not all - Monport Laser is also providing a discount on the Monport 40W Motherboard. If you're looking to upgrade your engraver, this advanced motherboard offers enhanced processing speeds and improved precision. With a $60 discount, you can unlock the full potential of your engraving capabilities and take your projects to the next level.
High-Quality Customer Service during the Fall Sale
At Monport Laser, we pride ourselves on providing exceptional customer service to ensure that our customers receive the best possible experience, especially during the Fall Sales term. If you have any questions or need further information, feel free to reach out to our dedicated team. We are here to assist you in making the right choice for your engraving needs.
Conclusion
At Monport Laser, we believe that exceptional technology should be accessible to everyone. That's why we have carefully curated this Fall Sale, offering unbeatable discounts on our top-of-the-line products. We want to empower businesses and individuals to transform their workspace with cutting-edge engraving solutions.
However, it's important to act fast, as this Fall Sale is a limited-time offer. Don't miss your chance to secure these remarkable discounts and revolutionize your engraving experience. Visit Monport Laser's website to explore our range of products and discover the perfect solution for your needs.