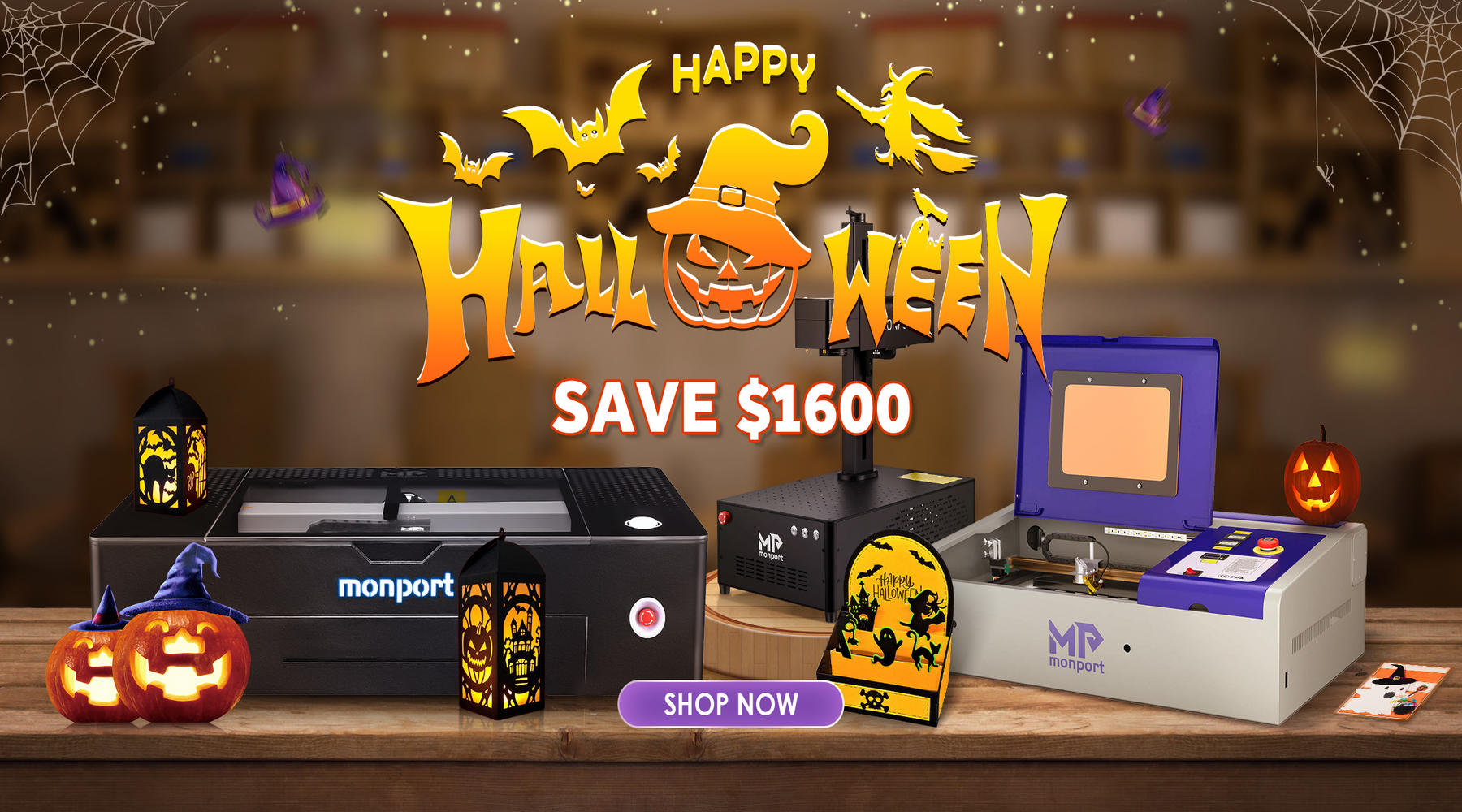 Embrace a Creatively Artistic Halloween Journey with Monport Laser
Discover a treasure trove of creativity and exquisite Halloween laser cut designs with Monport Laser. From dazzling customized decorations to costumes or party favors, we are your one-stop destination for all your Halloween needs. Join us now and explore the enchanting world of Monport's Happy Halloween promotion!
During the Monport Happy Halloween sitewide promotion, customers can enjoy:
Up to 20% off on laser engraving and cutting machines, saving up to $1600.
An exclusive Halloween gift with every machine purchase.
Up to 25% off on Monport accessories.
This limited-time event runs from October 13th to November 3rd and presents the perfect opportunity to turn your Halloween ideas into reality and make this season one to remember. Don't miss out on these spooktacular savings!
DIY Wooden Halloween Decorations Made Easy with the Monport 55W Desktop CO2 Laser Cutter
Get ready to spookify your space this Halloween with DIY wooden decorations! With the help of the Monport 55W Desktop CO2 Laser Cutter, you can effortlessly bring your creepy creations to life. It features a powerful 55W laser tube that effortlessly cuts through 18mm plywood and 17mm acrylic, resulting in precise and clean cuts. With its versatility, this laser cutter can easily handle an array of materials, including acrylic, wood, leather, MDF, fabric, and many more. During the Happy Halloween promotion, save $320 on the Monport ONYX and receive free DSP Lightburn software, further enhancing the capabilities of this exceptional machine.

Transform your Halloween decor with the assistance of a laser engraving and cutting machine. Explore these creative DIY ideas for wooden Halloween decorations:
Charming Wooden Halloween Shadow Box: Craft a delightful shadow box featuring haunted houses, ghost trees, and eerie lights. The shell materials, such as templates or plywood, can be supplemented with felt and various LED lights for added creativity.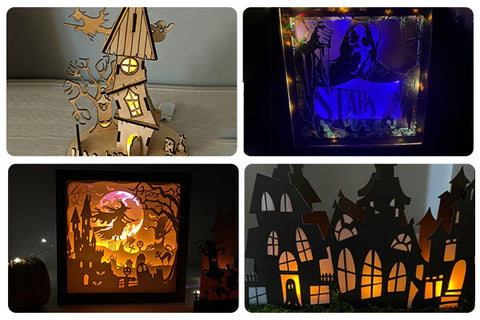 Essential Wooden Signs and Wall Hangings: Elevate your Halloween decor with personalized wooden signs and wall hangings. Use them to adorn the walls of your home, shop, or any other space.
Create Eye-Catching Metal Halloween Decorations with the Monport GI Integrated MOPA Fiber Laser Engraver
If you're looking to add an extra touch of creativity to your Halloween decorations, metal engraving can be a fantastic option. The Monport GI Integrated MOPA Fiber Laser seamlessly combines speed, precision, and versatility to effortlessly mark a diverse range of materials, including metal, stone, and leather. With it, you can take your metal engravings to the next level, including the ability to print in color. Save a staggering $1600 by investing in the Monport GI60 during the Happy Halloween promotion.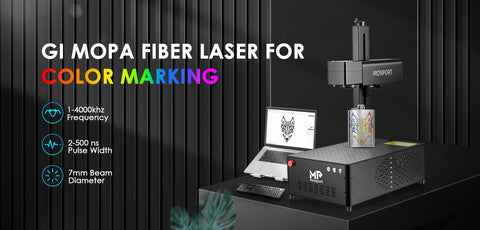 Here are some ideas for metal engraving Halloween supplies using this remarkable machine:
Personalized Metal Keychains: Craft metal keychains with Halloween-inspired shapes such as bats, ghosts, or witches. Take advantage of the Monport GI's precise engraving capabilities to add custom names or messages to these keychains. The color printing feature will make the designs pop and add a unique touch.
Engraved Metal Masks: Design and engrave metal masks with intricate patterns, skulls, or other Halloween-themed motifs. The Monport GI's flexibility and adjustable pulse frequency enable you to achieve detailed engravings and add color accents to make the masks truly captivating.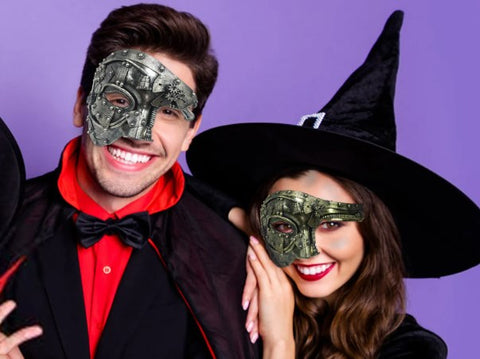 Exclusive Halloween Offer - Limited-Time Discounts on Monport Laser Accessories
Capture incredible savings on Monport Laser accessories in addition to the already substantial discounts on laser machines.
Take advantage of a $60 discount on the Monport 6L CW-5200 Industrial Water Chiller, purpose-built to provide efficient and dependable cooling for laser machines, ensuring consistent and optimal performance during engraving and cutting processes.
Elevate your workspace with the Monport Air Purifier Laser Fume Extractor, now available at up to $116 off, ensuring a clean and safe working environment. For engraving cylindrical objects like cups and bottles, the Monport Rotary Roller offers a perfect solution, with discounts of up to $40.
Enjoy discounted prices on Monport laser tubes, fiber lenses, and laser power supplies as well. Don't let this fantastic opportunity pass you by. Enhance your Monport Laser equipment at unbeatable prices.