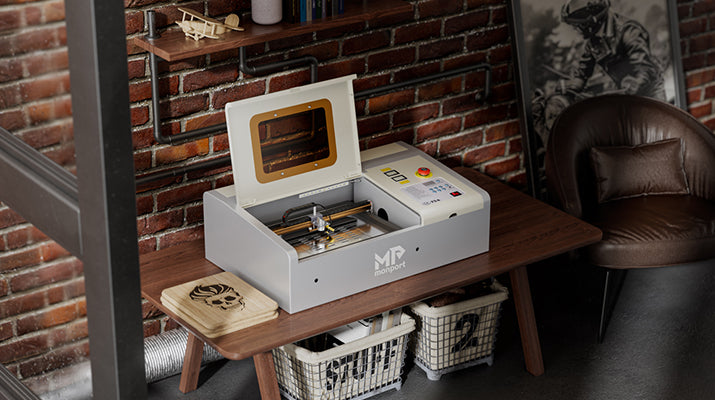 Why Cricut can't do but Monport can
This blog aims at comparing the difference between Cricut machine and Monport K40 laser engraver.
In this article we focus on the similarities and differences between Cricut and Monport. If you are a craft lover and really like Cricut machines, then Monport's laser engraving mode will greatly increase your productivity and working scope.
1. What is Cricut
Cricut is a brand of cutting machines that working with rotary blades or knife blades for cutting virtually any fabric or thicker materials up to 2.4 mm. Cricut products make it easy to create just for fun, for friends & family, or even for a small business. make happiness in minute.
2. Cricut vs Monport K40
Cricut and Monport are totally different kinds of cutting machines. The biggest difference between them is the cutting method. A Cricut machine uses a computer-controlled blade, while a Monport machine emits laser from a laser beam to cut and engrave. A Cricut machine is more likely a printer, which is portable and small, but just for fun and hobby. Monport K40 is not only for hobby but also for professional needs.
3. Why K40 is more expensive
Laser engraving machines are far more expensive than your typical desktop craft cutters like Cricut. Not only do they use costly laser, but when parts need to be replaced or when their brakes broken down, the replacement parts are more expensive as well. The other features also cost more:
User-friendly Control Board
Equipped with two LCD displays including laser power supply and cooling water temperature, it keeps you updated when the machine is working.
Professional laser system brings stability and reliability.
A stabilizer clamp to hold irregular-shaped objects in place and a vented level board for regular-shaped products, giving you more options.
Integrated fan to boost laser performance, improve ventilation, and reduce noise. A exhaust port creates a safe work environment.
Fast and easy set-up cooling system including compact water pump and built-in hoses can help make the machine work smoothly and consistantly.
4. Who perfers Monport K40
Anyone who are interested in engraving even some new beginners.
Small business owners
Craft makers
5. About Materials
Maximize the magic of Cricut Maker capabilities with genuine leather, heavy chipboard, balsa wood and others. Keep in mind that with Cricut machines not every model from this manufacture is capable of engraving.
The Cricut Maker can cut basswood, balsa wood, as well as wood veneer. But not totally cut through the wood, if the thickness is more than 1/8 inch, the result should be very terrible. Wood is more suitable for CO2 machines.
 6. Why use laser
The laser light source is the core component of laser engraving machine. The characteristics of the light source determine the material effect of the laser machine to achieve engraving, and the energy level has a significant impact on the depth and speed of the engraving. 
That light is focused in the tube through the laser output window, through three mirrors and finally through a lens. The beam directly out of the tube is powerful enough to burn organic materials. This process creates heat, lots of heat. This is why all Co2 Laser use water cooling to maintain a reasonable operating temperature in the tube to prolong the life of the tube. Typical power outputs for Co2 Lasers range from 30w to 150w for home use. Monport 40w laser engraving machine is a best choice for new beginners.
7. About software
Monport use LaserDRW, which is very easy to use. It works on Windows 7,8,10,11 (64/32 bit),XP, 2000 and Vista and compatible with Shenzhouyike. It also supported with BMP, GIF, JPG, DXF, AI and other formats.
8. What else can I do by K40
Laser engraving machine is a very professional machine, it can be used not only for hobbies, but also for business use. You can carve your own design works or creative patterns on the raw materials and then sell and start a business.
The Monport website provides many ready-made diy files that can be downloaded and used directly.
The 40w machine takes up little space and can be used in school education or maker space.