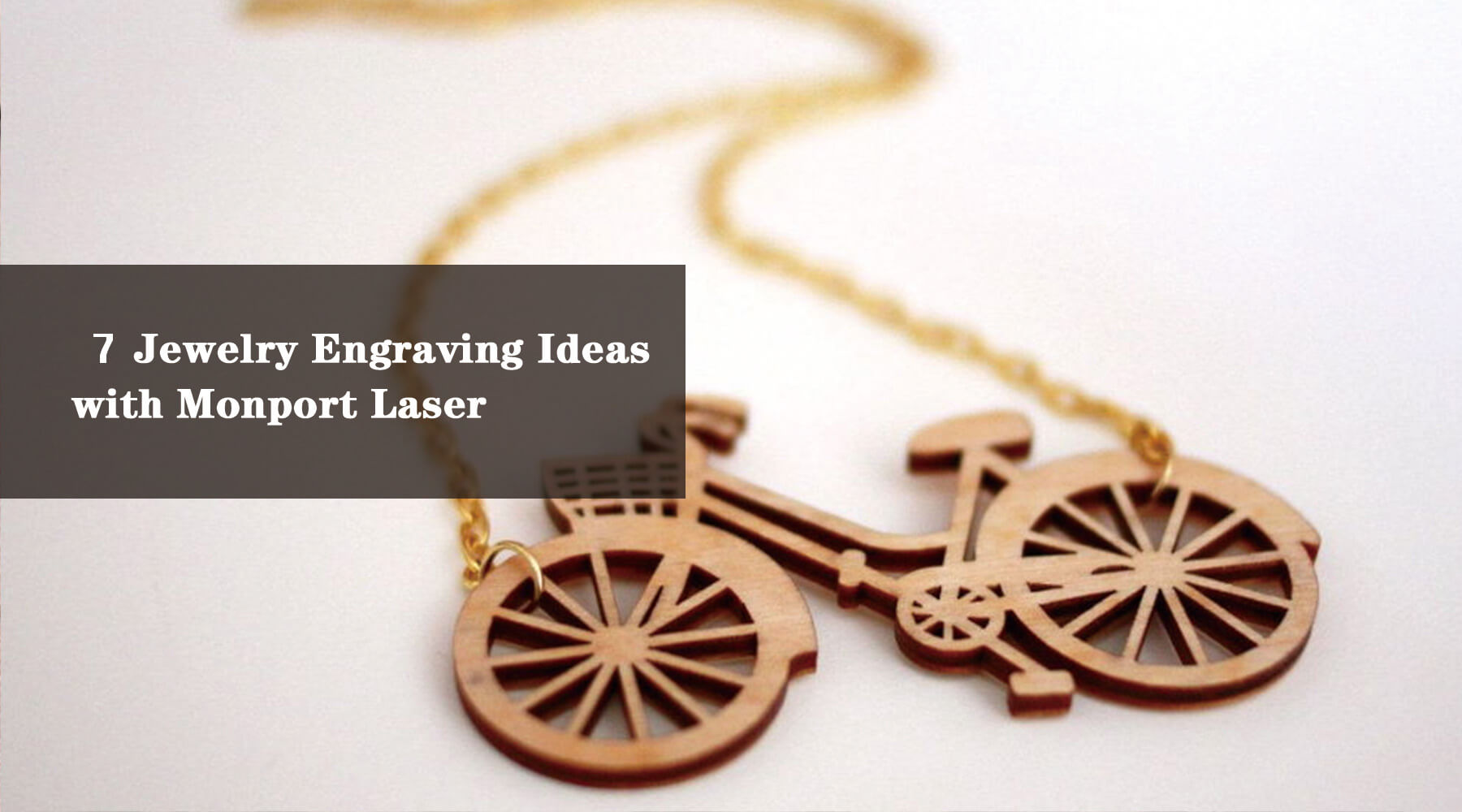 7 Jewelry Engraving Ideas with Monport Laser
Unleash your creativity with Monportlaser! When buying jewelry as a gift for your special someone, many jewelry stores offer private customization to increase sales. For expensive jewelry, professional engraving is usually needed. But for more affordable jewelry pieces, laser engraving is more than sufficient. Invest in a CO2 laser engraving machine or a fiber laser and you can even start a small business!
Ⅰ. What kind of engraving jewelry machine do you choose? 

First of all, we need to define the material of the jewelry you want to carve. Decorations are not only made of metal, but also made of other materials. Different materials should be handled by different carving machines. Generally, there are not many types of engraving machines on the market that can be used to add drawings and words to jewelry, which can be roughly divided into two types: physical engraving and chemical engraving, including the traditional CNC laser cutter, fiber lasers and CO2 laser machines.
What is your laser engraving material?
Are you in the market for jewelry engraving machines? Different materials require various approaches - manual tools, laser engraving machines, CNC engraving machines, and more. If you're looking to engraver metals, we suggest fiber laser and diode laser carving machines. For materials with high light transmittance, such as ruby, physical cutting with CNC engraving machines or engraving machines with metal rotating tips may be the answer. For non-metallic materials like wood and glass, CO2 laser cutters are the way to go. Get the perfect engraving machine for your needs!
What engraving effect do you want to achieve?
In addition to the jewelry materials, the carving effect you want to achieve is also important. If you want to imitate the results of traditional chisel and hammer carving, manual engravers are the ideal choice. However, the biggest disadvantage of traditional carving is that it cannot be used on some materials. Traditional rotary engraver cannot be used for delicate objects sensitive to heat and pressure. You will not be able to engraver any jewelry made of plastic or glass, as rotary engraving can easily damage or damage these materials. If you need to achieve exquisite works, laser engraving will be very suitable for you.
How much space can you provide for the engraving machine?
For small jewelry or narrow spaces like inner ring, both CO2 laser engraving machines and optical fiber marking machines have desktop models, which will not be limited by the operating area. Monport provides CO2 laser engraving machines of various sizes. There are 40W lightburn desktop models that can completely realize various materials that can be engraved by ordinary CO2, and there are also high powered laser that can achieve cutting of materials with high hardness.


Ⅱ.

 

Best Jewelry Engraving Machine
Monport 30W Fiber Laser Engrver
When it comes to laser engraver for metal, most people think of a fiber laser, Monport 30W Fiber Laser Engrver is an 8x8-inch fiber laser engrver that belongs to the solid laser metal etching machine with the EzCad2 Galvo lens Red Dot. It has an advanced galvanometer system that can reach an impressive 7000mm/s. Therefore, it will complete more projects in a shorter time, thus improving productivity. This computerized jewelry carving machine is also very easy to use. The rotary axis supporting bending jewelry can help the laser focus on the material, but because the function of the fiber laser machine is generally more advanced and expensive, it is suitable for experienced engravers.
Monport 60W CO2 Laser Engraver
Reach your engraving and cutting goals with our Mid-Range CO2 Laser Engraving Machines. Offering power levels of 60W to 80W, these laser cutters and laser engravers have the capacity to cut through wood and acrylic. Monport 60w and 80w machines, both in the fireproof series and built-in water chiller series, come equipped with auto focus system and enclosed guide rails. So you can also use wood, acrylic and other materials to make jewelry from scratch. As it is a high-speed engraving machine, you can complete more work in a shorter time without affecting the quality or accuracy.


Ⅲ.

 

Custom Engraved Jewelry For Perfect Gifts
1. Engraving Ideas for Wedding Bands or Engagement Rings

If you are the creator of a small business, often carve some small goods. Personalize your jewelry far beyond adding a simple name inside the ring. There are many kinds of materials for rings. The general marking machine can carve many kinds of materials. Metals, including brass, copper, precious metals and some coated metals, can be used. These fiber marking machines can be used for marking. When engraving a ring type ring, you can use a rotary shaft to carve. When you need to carve on the inside of the ring, you can also use some other fixed objects to find the corresponding angle, But at the same time, it also has the ability to edit the pattern of the sculptor. Because it is not carving on the plane, it will produce certain errors. Whether it is engraving rings or bracelets, these difficulties need to be considered.

2. Engraving Ideas for Leather Bracelets

Leather jewelry is very common. It usually combines some gemstones with leather. This kind of jewelry is very popular and can be carved on leather. A leather bracelet is the perfect jewelry for men, free delivery. You can give it to you as a gift for Christmas, Father's Day, Valentine's Day, anniversary and birthday... as long as you want. You can engraver your own information to the person you love. You can also customize the appropriate size according to your own preferences.

3.Engraving Ideas for Name Bar necklace

These fashionable label style necklaces are unique from time to time. They can not only carve names, but also carve fingerprints, which is an excellent and unique way to carve a piece of jewelry. This applies to parents regardless of their child's age. You usually need a larger surface, such as a flat necklace or small necklace, a cuff bracelet, or the back of a watch.

4.Engraving Ideas for Personalized Photo Necklace

In addition to metal, acrylic and some other plastics, they can be used as materials for this kind of jewelry. That means they will be permanent mementos for many years to come, without losing their luster. You can decide whether to attach your necklace with your favorite photo on one side or on both sides so that you can laser engraver your innermost words on one side of the necklace. All you need to do is choose the photo you want and decide on the message to engraver.

5.Engraving Ideas for Personalize Picture Locket Necklace

Traditional necklaces will also be very popular, especially the jewelry with built-in private pictures generally needs to be customized. The CO2 laser engraving machine can carve photos, and can also carve exclusive words and patterns on the external metal.

6.Engraving Ideas for Crystal Pendant

Crystal and glass materials can be used as materials for this transparent pendant. Laser engraved glass looks very different from the glass marked by other personalized methods. You can get high-quality engraving results, but you can't get any significant depth. In most cases, CO2 lasers work by evaporating the surface of the engraved material. However, the laser can shatter or destroy the surface of crystal and glass, which may leave very small flakes or fragments, and may lead to uneven appearance of the filled area. When this happens, sometimes it can be polished with very fine sandpaper to make it smoother. Of course, the most important thing is to choose materials with less impurities to avoid this situation to a large extent.

7.Engraving Ideas for Wooden Earrings
Wood carving machines can be used to personalize, brand and decorate wooden items. CO2 desktop laser engravers offer enough wood laser engraving experience!
Ⅳ. Conclusion
Engraving your jewelry is a great way to add a personal touch or create a unique look. When choosing jewelry to engrave, be sure to consider the design or message you want to convey. A reliable jewelry engraver can help you create the perfect piece of jewelry for yourself or as a gift.