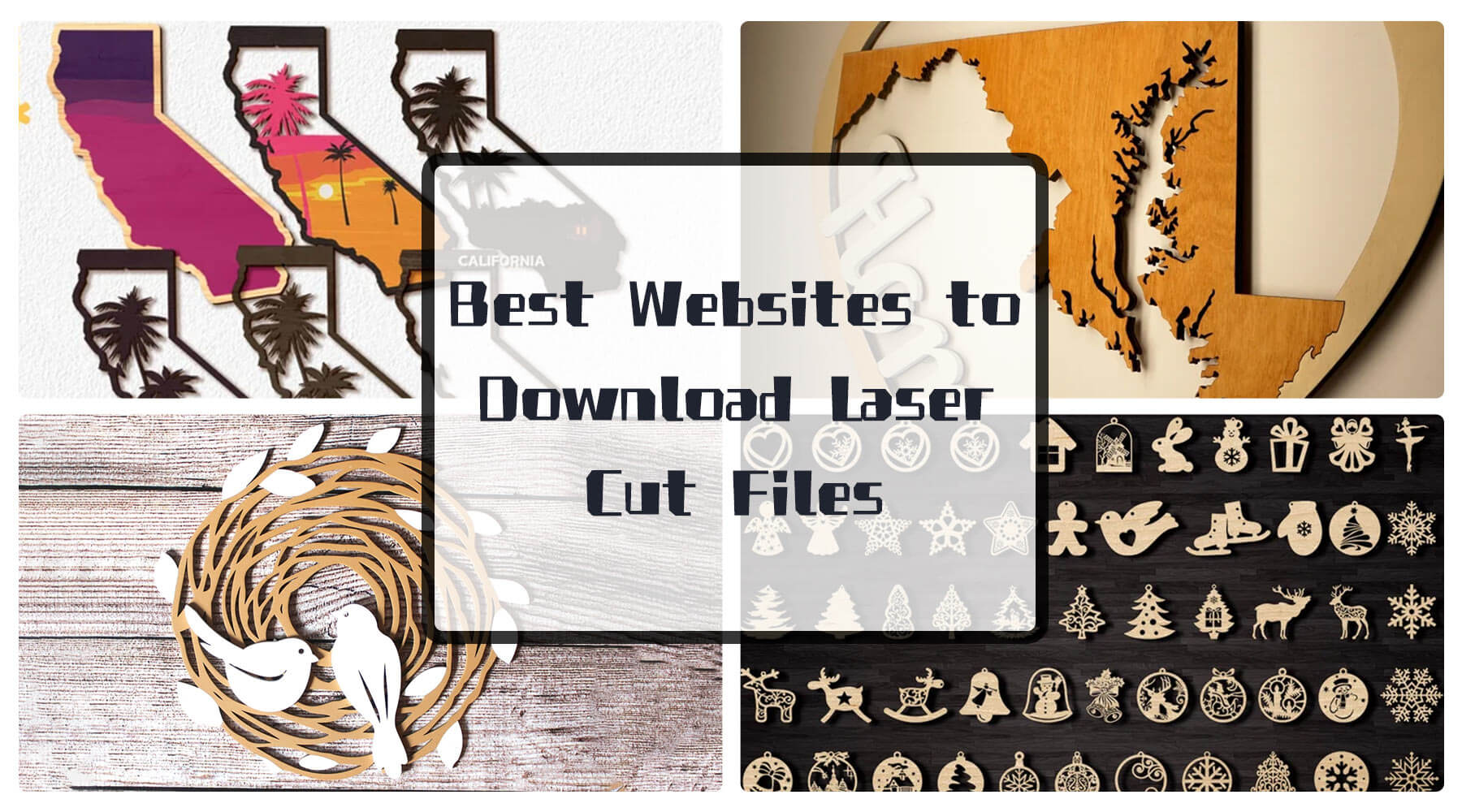 Best Websites to Download Laser Cut Files
Laser engraving is gradually moving towards various fields, whether in the art or business field. Buying a laser engraving machine suitable for engravers may have puzzled some who want to enter the world of laser engraving. Some professional designers usually use powerful design tools such as Illustrator, Photoshop, CorelDraw and AutoCAD to use BMP, DXF, SVG and vector files for laser engraving. However, for some beginners who are new to laser cutting, it may be very difficult to create laser cut files at the beginning, but if you want to quickly experience the joy of harvesting works, then some free laser engraving files are very suitable for you to purchase and use, so you can easily create your cutting works without becoming a professional graphic designer.
Five types of cut files for most laser cutters
Not all graphic design files can be carved. Therefore, when learning how to carve works, sculptors need to figure out several eengraving documents that can be used for engraving machine work.
The vector file is designed through the path of dots and lines, which is very suitable for the principle of laser engraving machine in the engraving process. Vector file formats include AI, EPS,SVG, CDR, etc. They are not affected by the resolution, and their size can be adjusted infinitely. The size can be changed during the engraving process, which can make the engraving graphics clearer.
This bitmap is a graphic image composed of pixels. They are used for laser engraving or laser etching (marking). However, they can be converted into vector images and then used for laser cutting. This bitmap is very suitable for use with Lightburn. Other software cannot provide some functions that can easily use this bitmap. Common Bitmap files include BMP, GIF, PNG, TIFF
Another laser cutting design file format is a CAD file created with CAD software, including AutoCAD, FreeCAD, TinerCAD, DraftSight, etc. CAD file formats mainly include DXF and DWG. CAD files mainly focus on complex engraving design.
Gcode files are also common for laser cutting machines and CNC machines.
Where can you get these engraving files?
We have found some carving file download websites that are popular with sculptors. Some of these websites will provide free laser carving files, while others need you to purchase, and you can customize personal files according to your needs. In addition to the difference in cost, these websites can provide different types of files, but if you lack the necessary skills to use CAD programs, these may be your only way, After all, these websites have thousands of design projects, which usually cover some of the most commonly used projects, and even some websites often update some novel and interesting design documents. So don't be afraid of not having design inspiration. Here are the top 10 websites that I think provide the best quality documents. However, choosing the website that best suits your needs depends on your judgment:
Format: DXF, CDR, PDF, BMP, DWG, STL
Free DXF files, Coreldraw vectors, designs, silhouettes, 3D puzzles, vector art for CNC routers, laser cutting, plasma cutting machines, wood cutting and carving. 3axis. Co has 21413 files available for free download or online viewing. 3Axis can provide a large number of free vector files for laser cutting to solve the design problems in the files for your laser carving journey. In addition, you can convert the file to any major format without any problems. Almost all files on 3Axis can be downloaded for free. In short, as long as you know what you want, all the content on this website can be downloaded for free without download restrictions, and this website does not require registration and other cumbersome requirements, as long as you enter the website, you can start your download journey.
File Formats:EPS, SVG
Quantity of Files: 200+
Costs: Free
Ponoko offers a series of free designs created by Ponoko or other customers who have used Ponoko's services and want to share their ideas. The files are provided in EPS or SVG format. In addition, you can customize the file according to project requirements. Although Ponoko does not support postscript, there are converters that can convert this design to a DXF format suitable for Ponoko. Ponoko also accepts EPS, SVG and Ai files. To download these files, you need to log on to their website and maintain an active user account.
File Formats: AI, EPS, JPG, PDF
Quantity of Files: 1,000,000+
Costs: Free
In addition to providing many vector files, Vecteezy also contains many other pictures and videos. Sculptors can search for carving files through various theme classifications. Compared with other websites that prefer design functionality, Vecteezy websites prefer to use creative themes for classified navigation. However, a large number of vector files on this website are worthy of being designed and used by sculptors.
Top 3 Paid Laser Cutting Design Files Download Websites
File Formats: AI, CDR, DXF, EPS, PDF, SVG
Quantity of Files: 63,000+
Costs: Paid
Etsy website has different paid carving files, which are generally more selective than free carving software. Carving files of the same style even have personalized designs. These are not comparable to free carving files. If you want different carving files, the paid website can meet your needs. The seller will design the carving files you want according to your needs, But this kind of design is generally based on a basic design type. If you want to try a truly unique design, you need to find other specialized designers to deal with it.
File Formats: DXF, EPS, JPEG, PNG, SVG
Quantity of Files: 100,000+
Costs: Free & Paid
This website requires registration to view the content of specific files, but you can also save a large number of templates through cloud storage through registration. If you want to pay for templates, it is necessary to register an account. The content of design files is similar to that of Etsy. The classification is very detailed and complete. The design style of other software cuttings is different. The design of this website tends to be unique to a small number of people. If you want to find some unique carving files, this website will definitely bring you surprises.
File Formats: SVG, PSD, PNG, EPS
Quantity of Files: 100,000+
Costs: Paid
So Fontay website has a variety of design types for others to choose from, ranging from design documents in various fields to laser engraving documents in special sections. Various typesetting classifications can make it very easy for engravers to find the design documents they want. This website has many designers to design eye-catching wonderful designs, especially the festival carving documents which are very unique and interesting, and may give the engravers a glimpse.