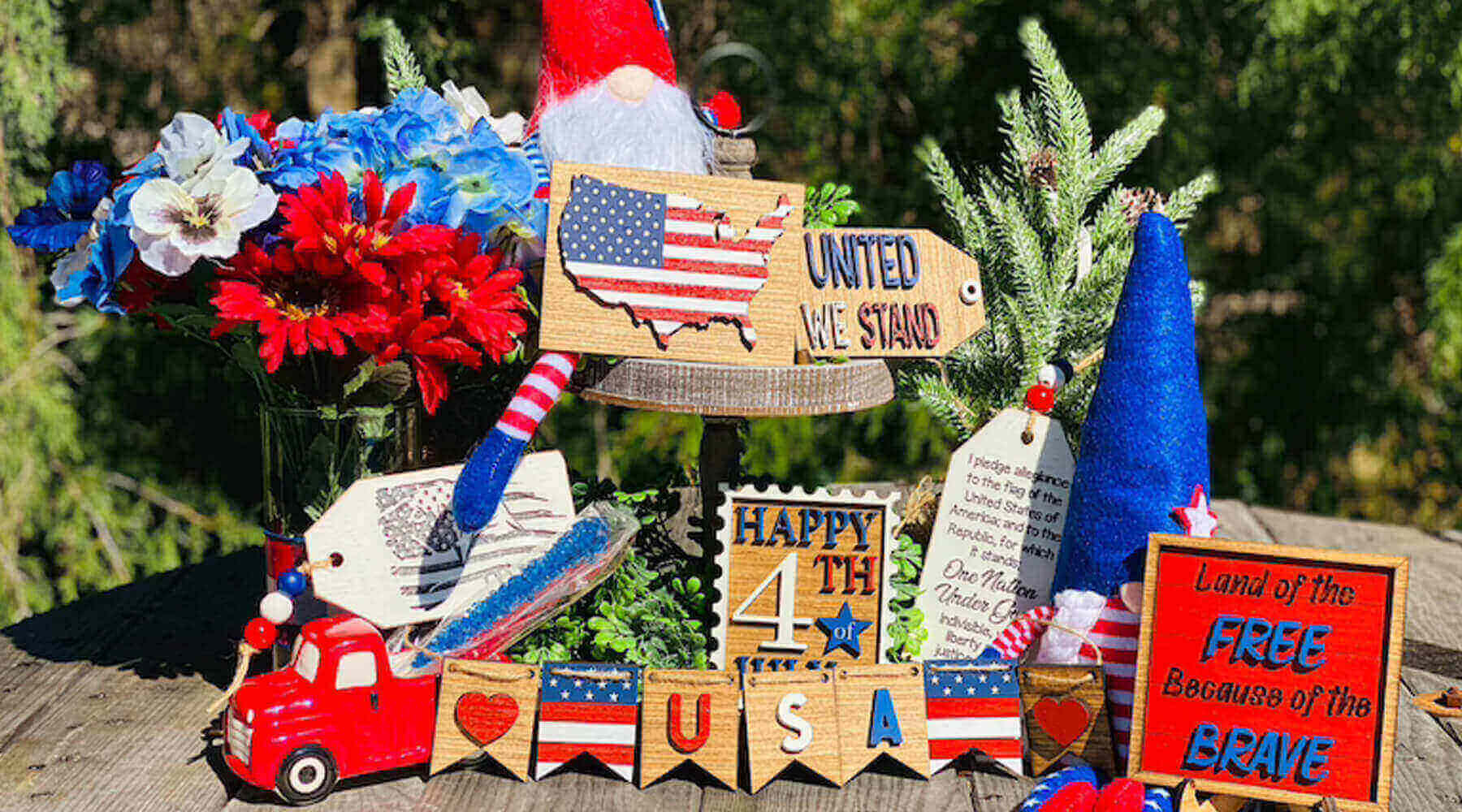 10 Unique DIY Independence Day Decoration Ideas and Projects
Independence Day is a time for celebration, and what better way to express your patriotism than by creating unique
DIY laser engraving
decorations? This year, take your Fourth of July decor to the next level with these 10 laser engraved crafts ideas and projects. 
Laser Engraved Wooden Flags
Add a rustic touch to your Independence Day celebration with a laser-engraved wooden flag. Using a piece of wood as your canvas, engrave the stars and stripes onto the surface. You can either paint the flag or leave it natural for a more rustic look. This decoration can be hung on a wall or displayed on a table. 
Star-Spangled Coasters
Protect your surfaces in style with these patriotic coasters. Engrave stars or other Independence Day-themed designs onto wooden or acrylic coasters. These make for a functional and festive addition to your party. 
Patriotic Serving Tray
Impress your guests with a custom laser engraved serving tray. Engrave a patriotic design, such as an American flag or fireworks, onto a wooden or acrylic tray. This is perfect for serving drinks or appetizers at your celebration. 
Laser Cut Star Garland
Brighten up your space with a star-spangled garland. Using a laser cutter, cut out stars from cardstock or wood in various sizes. String the stars together and hang them around your home for a festive touch. 
Personalized Place Cards
Add a personal touch to your table settings with laser engraved place cards. Engrave your guests' names onto wooden or acrylic cards, along with a patriotic design. This is a great way to make your guests feel special and add some festive flair to your table. 
Laser Engraved Candle Holders
Illuminate your space with these patriotic candle holders. Engrave an Independence Day-themed design onto wooden or acrylic candle holders. Place tealights or small candles inside for a warm and inviting ambiance. 
Custom Drink Stirrers
Elevate your cocktails with custom laser engraved drink stirrers. Engrave patriotic designs, such as stars or flags, onto wooden or acrylic stirrers. These are a fun and functional addition to your Independence Day celebration. 
Laser Cut Confetti
Add some excitement to your party with custom laser cut confetti. Cut out stars, flags, or other patriotic shapes from paper or cardstock using a laser cutter. Scatter the confetti around your space for an extra festive touch. 
Patriotic Wall Art
Create a statement piece for your home with laser engraved wall art. Engrave a patriotic design, such as an American flag or a quote about freedom, onto a wooden or acrylic canvas. This decoration can be displayed year-round as a reminder of the importance of Independence Day. 
Laser Engraved Photo Frames
Capture the memories of your celebration with a custom laser engraved photo frame. Engrave a patriotic design onto a wooden or acrylic frame, and add a personal message or the date of your celebration. This makes for a great keepsake or gift for your guests.
 

With these 10 unique DIY Independence Day decoration ideas and projects, your celebration is sure to be a hit. Laser engraved crafts add a personal and creative touch to your décor, making your party one to remember. Happy crafting, and happy Fourth of July!