Exploring the Differences Between CO2 Lasers and Fiber Lasers
In the world of laser engraving, two dominant technologies have emerged: CO2 lasers and fiber lasers. Each of these technologies offers unique advantages and is suitable for different applications. Fiber laser vs CO2 laser, what's the difference? Understanding the differences between CO2 and fiber lasers is essential for making an informed decision when choosing the right engraving technology for your needs. Let's delve into the details and compare these two powerful technologies.
Comparing Engraving Capabilities: Materials, Thickness, and Resolution
When it comes to engraving capabilities, both CO2 and fiber lasers excel in different areas. The primary distinction between CO2 Lasers and Fiber Lasers lies in the type of material they can effectively engrave. CO2 lasers have an advantage when working with non-metal materials such as wood, acrylic, leather, and fabrics. They offer excellent control and are capable of achieving detailed and intricate designs. On the other hand, fiber lasers are the preferred choice for engraving and marking metals, ensuring high contrast and sharp edges. Fiber lasers can also engrave certain plastics and other non-metal materials, but their expertise lies in metal engraving.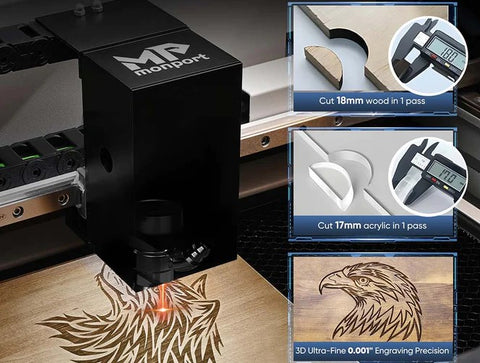 MONPORT Desktop CO2 Laser Engraver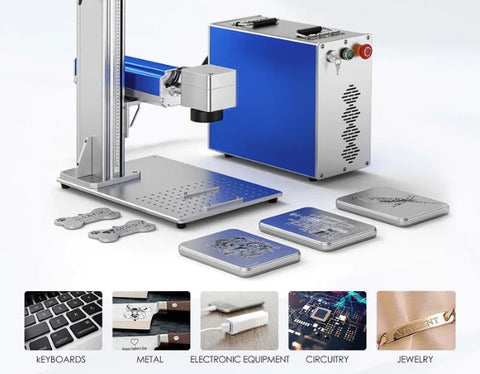 Monport Fiber Laser Engraver & Marking Machine

Understanding the Fundamental Differences: How CO2 and Fiber Lasers Work
CO2 Lasers, as the name suggests, operate with a carbon dioxide gas mixture as the active medium. These lasers primarily emit infrared radiation, typically at a wavelength of around 10.6 micrometers. The process involves a high-voltage electrical discharge stimulating the gas molecules to reach an excited state. As these molecules transition back to a lower energy state, they emit photons of laser light. CO2 lasers predominantly emit infrared radiation, making them suitable for materials that absorb this wavelength effectively. This characteristic makes CO2 lasers ideal for engraving materials such as wood, acrylic, paper, and plastics.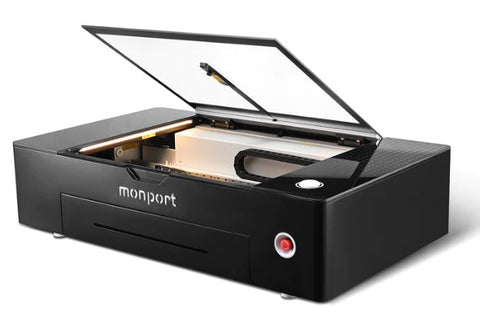 MONPORT ONYX 55W Desktop CO2 Laser Cutter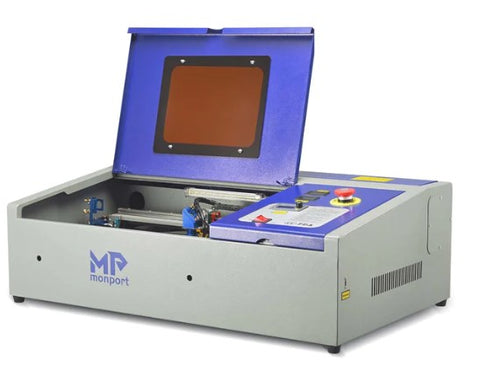 Monport 40W Pro CO2 Laser Engraver & Cutter

On the other hand, Fiber Lasers employ an optical fiber doped with rare-earth elements, such as erbium, ytterbium, or neodymium, as the active medium. In Fiber Lasers, a pump source, commonly a laser diode, pumps energy into the fiber to excite the dopant ions. This excitation process results in stimulated emission, generating laser light at specific wavelengths. Fiber Lasers emit laser light in the visible and near-infrared spectrum, typically at wavelengths around 1.05 micrometers. This shorter wavelength enables Fiber Lasers to have a higher absorption rate in metals, making them highly efficient in metal engraving and marking applications.
Monport GI Integrated MOPA Fiber Laser Color Engraver

Choosing the Right Laser For Your Specific Application
While CO2 lasers are better suited for non-metal materials, and fiber lasers excel at metal cutting and engraving, here are some additional factors to help you make an informed decision:
Material Thickness: If you mainly work with thin materials, such as sheet metal or thin acrylics, a fiber laser may be the better choice due to its high cutting speed and precision. CO2 lasers can handle thicker materials but may not be as efficient for thin materials.
Cutting Speed: Fiber lasers are renowned for their high cutting speed, making them ideal for large-scale industrial applications where time is of the essence. CO2 lasers, while versatile, may not cut as quickly as fiber lasers, so consider the time constraints of your projects.
Precision and Detail: CO2 lasers are advantageous when it comes to intricate designs and fine details. Their ability to produce highly focused beams makes them well-suited for applications that require precise cutting or engraving, such as intricate signage or delicate artwork.
It's important to note that laser technology is continually advancing, and each type of laser has its unique strengths and limitations. To make an informed decision, it's advisable to consult with experts or equipment suppliers who can provide insights based on your specific needs and budget.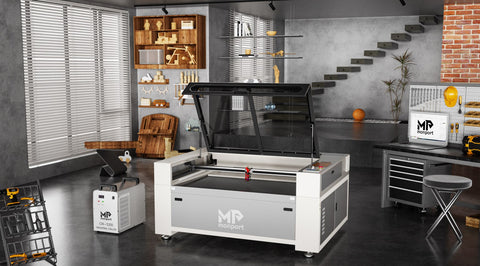 Monport 100-150W High Powered Laser Cutter Machine

Monport GP Integrated Fiber Laser Engraver

Conclusion
Both CO2 lasers and fiber lasers have their advantages and limitations in terms of materials they can cut, processing speed, and operational costs. Whichever laser type you choose, ensure that it's the right fit for your application, and follow all safety procedures to protect yourself and others around you.