Monport:The Great Glowforge Alternative
When talking about laser engraving, Glowforge might come to your mind firstly. With Glowforge  engraving machine hobbyist crafters can make so much creating and personalized gifts for their friends and family. However, when it comes to industrial use, or even more professional needs, you may think about Monport laser engraving machine which is more suitable for you.
Next, we will make a clear comparison on the performance of two typical machines and then explain why we say that for industrial use or users with more professional engraving needs, the Monport laser engraving machine is more suitable for you.
Main difference between Monport VS Glowforge machine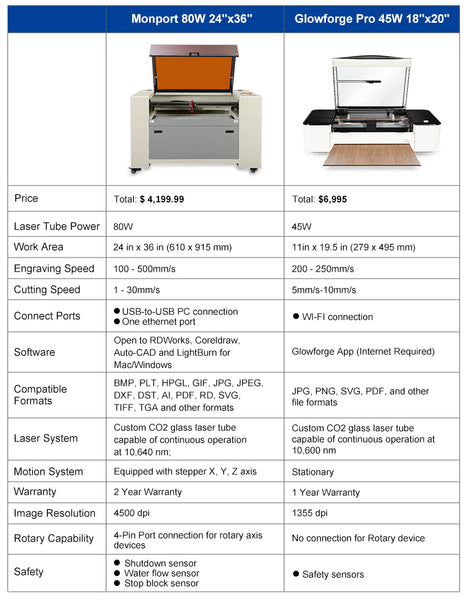 Why choose Monport laser?
1. Cost Saving-more affordable to start your small business
Glowforge Series
| | | |
| --- | --- | --- |
| Glowforge Basic 40W | Glowforge Plus 40W | Glowforge Pro 45W |
| $3,995 | $4,995 | $6,995 |
Monport Industrial Series
| | | |
| --- | --- | --- |
| | | |
| $ 2,374.99 | $2,754.99 | $4,199.99 |
Price is one of the most important factors in buying an engraving machine. Generally speaking, professional laser engraving machines for multiple purposes are expensive. But there are cheaper options- Monport laser engraving machine. With the same laser type and engraving material, Monport can engrave in a larger area with a higher laser power. 
From the above price information, we can clearly see the price difference between Glowforge's main product series and Monport industrial series. With the higher power of the machine, the price of Monport machine is even much lower than Glowforge! The most of Monport products are cheaper than Glowforge products. By choosing Monport, you can save more than $1,000 per machine on average. In addition, with a higher power machine, you will maximize your professional abilities, which will expand your range of services. 
Compared with Glowforge, Monport is more affordable for clients! Whether you are an amateur or an entrepreneur, Monport laser engraving machine is the best cost-effective choice! For people who are just starting their business, you can start your business with only a few thousand dollars. The less cost you invest, the more money you can save for later operating costs. With only a small amount of investment and a small amount of planning, you can add a laser engraving machine to an existing business or start a new business. The laser engraving machine is a powerful tool that can provide you with a lot of creative freedom for custom products that you make in the store or through your business. When you add this machine to your business tools, you will enjoy the various flexibility of the products you can manufacture and design. Therefore, your investment will be recovered soon. 
2. Faster speed- to meet more professional needs
The Monport 80w's engraving speed up to 500 mm/s when Glowforge is about 250mm/s.
For industrial cutting, client require more speed of the machine. If the cutting speed is faster then the job time will be shorter. The entrepreneur will have higher hourly profits and lower operation costs. Meanwhile, with higher speed the company can have savings on capital expenditure. 
A good example of the application of laser engraving machine in industry is in production line. Here, the beam of the laser engraving machine is directed to a rotating or vibrating mirror, which moves to engrave numbers and letters on the surface to be marked. This is an effective way to mark production codes, shelf life and batch numbers on products and packaging. Laser engraving can mark various products and packages made of plastic and glass that move along the production line. Thereby improving the production efficiency of many companies. 
When the the client has industrial purpose, The engraving speed of Monport laser engraving machine is twice that of Glowforge, which can better meet the customers' requirements for speed.
3. Higher power and larger working area- for industrial purpose
Monport's engraving machine always have higher power than Glowforge.  
We know that there are many factors in the machine's engraving that will affect the engraving effect, such as power, speed, blowing, focal length, interval, etc. It can be said that different factors have different effects on engraving. Then why put the power in the first factor to describe it? Does power have a relationship with energy? What kind of effect does the change of power have on carving? 
In fact, putting power in the first place, of course, is because different power parameters have different engraving effects. The greater the power of engraving, the greater the energy of laser engraving, and the greater the impact on the engraved object. When the energy is smaller, the energy of the laser is smaller, and the impact on the engraved object is smaller. The greater the power, the higher the energy, and the deeper the carving. When engraving on materials like ceramics and glass, generally use moderate to high power. The higher the power of the laser engraving machine, the more materials that can be engraved. 
Glowforge can cut many materials 1/4 in (6 mm) and below well in a single pass. It can hold 1/2 in (1.2cm) in thick material, but it may require multiple passes or turns the material. You can engrave objects up to 2 inches (50mm) thick. It can engrave the surface up to 0.5 inches (1.27mm). 
Monport can hold 60X90 cm materials. Max engraving depth is up to 0.75in (19.05mm). Monport laser engraving machine can safely engrave or cut any laser-compatible material like wood /glass /acrylic / fabric  /leather  /paper  /cardboard /rubber;
| | |
| --- | --- |
| Material | Cutting Thickness |
| Leather | 10mm |
| Paperboard | 8mm |
| Acrylic | 20mm |
| Rubber | 5mm |
| Cloth | 12mm |
| Plywood | 6mm |
| MDF | 6mm |
With upgraded laser power and working area, Monport industry-level 55W/60W/80W laser engraving machine and cutting machine make your design more competitive. A higher power of laser tube enables Monport machine engrave and cut thick materials more effectively. 
The larger the working area of the machine, the wider engraving range. 
Monport laser engraving machine provides a lot of working space for cutting and engraving. This is a great machine with a affordable price while it can do a lot of things and can use a lot of materials. Being able to use the same machine for cutting and engraving is well worth upgrading to this machine to meet certain business needs. The device has an 24" X 36 " working area that can handle almost any type of material you can think of.  
The application of engraving machine is almost everywhere in every industry, and it has become a common equipment in our daily work. Now, it is mainly used in advertising industry, craft industry, mold industry, construction industry, printing and packaging industry, wood industry, decoration industry, leather industry... 
Laser material processing started a revolution in industry. It brings quantitative improvements, such as the improvement of production speed, and quality improvements, such as the possibility of creating high value-added customized products, even on a small scale. The packaging industry immediately recognized that the use of lasers can provide unlimited possibilities for innovation. Packaging is a basic aspect of most manufacturing industries, and laser technology occupies a strong position in this growing market. Laser strengthens and improves the characteristics of packaging materials to help them better perform their expected functions. 
Laser engraving machine helps the advertising industry realize creativity, the advertising industry is developing rapidly and is in a golden period of development. With the continuous progress of society, we have higher and higher requirements for the advertising industry. The use of laser cutting machine in advertising industry is very important. Laser engraving/cutting is applicable to all industries and materials covered by the advertising industry, which has greatly promoted the development and reform of the advertising industry. At present, there are still many problems in the advertising industry. In the traditional advertising production process, some advertising products have precise design and complex structure. They always pursue novelty and beauty, ignore the problems of production and processing quality and cycle, and are difficult to mass produce. The application of laser engraving/cutting machine can improve this and greatly promote the development of the industry. 
The application of laser engraving machine in the leather industry is also called laser drilling, which is mainly used for shoe uppers, handbags, leather gloves, luggage and so on. The laser engraving machine has many advantages over traditional cutting methods: the edges of the leather cut by it are not yellowed, and the edges or curled automatically, no deformation, no hardening, consistent and accurate size; it can cut any complex shapes; high efficiency , Low-cost computer design graphics, can cut lace of any shape; processing does not have mechanical pressure on the work piece; safe operation, simple maintenance, etc. Due to the combination of laser and computer technology, users only need to design a pattern on the computer, and they can output and change the engraving pattern at any time, realizing the idea of designing and producing products. It can be said that the emergence of laser engraving machines has greatly promoted the development of the leather industry. 
When it comes to these wide-ranging applications, the use of Glowforge laser engraving machine may not meet the requirements, and there will be many restrictions on the engraving speed and the size and thickness of the material.  
Monport is more cost-effective and provides you more options than Glowforge! 
A quick analysis of the pros and cons of Monport and Glowforge shows that for professional purposes, Glowforge is not the most cost-effective. Monport laser engraving machine provides a full range of professional functions, which can immediately take your engraving to a new level. In addition, all of these have great discounts. With higher power and advanced capability, Monport laser can meet your industry purpose better than Glowforge! If you want to start a laser engraving business, Monport provides the best laser engraving machine to meet professional needs.