Laser Engraving & Cutting Paper
Ⅰ.One of the most versatile material-Paper
The most versatile material you may have ever tried with laser engraving and cutting machine is paper. Surprisingly, although the paper is extremely thin and flammable, it has a remarkable effect combined with the laser engraving and cutting techniques when set up correctly.   Advantages of paper are easy to obtain, cheap and have different colors, smoothness and thickness.
Paper is a thin sheet of material that is produced in water by mechanical or chemical processing of cellulose fibers from wood, rags, grasses, or other plant sources, drained through a thin net, so that the fibers are evenly distributed on the surface and then pressed and dried. Although the paper was originally handmade, almost all of it is now made on large machines. It is a versatile material with a variety of uses including printing, packaging, decoration, writing, cleaning, filter paper, wallpapers, book end paper, protective paper, laminated countertops, toilet paper, currency and safety paper as well as many industrial and construction processes.
Paper types: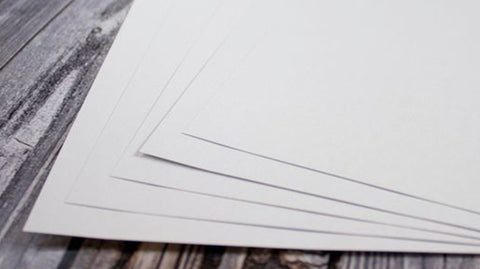 Medium-weight paper, usually white. This is the writing paper commonly used by printers. It is cheap and easy to buy. Very suitable for practice design.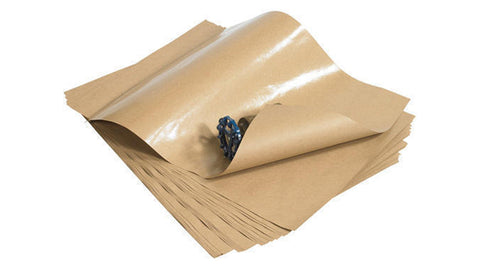 Coated paper (also called enamel paper, glossy paper, and glossy paper) is a type of paper coated with mixed materials or polymers to give the paper certain qualities, including weight, surface gloss, smoothness, or reduced ink absorption .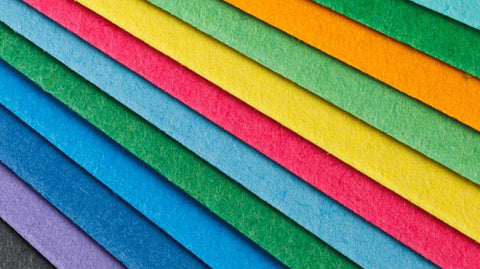 A typical craft paper for school projects. This paper is not as hard as card stock and has many bright colors. It is usually thick enough to see the "texture" of the paper when it is torn.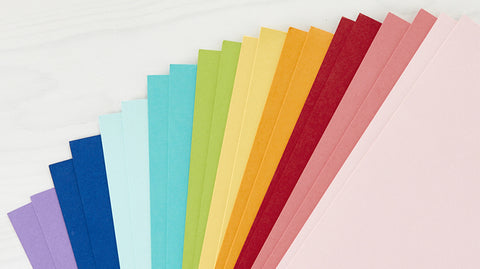 Located between paper and cardboard, card stock is usually harder than copy paper. This makes it ideal for laser cutting greeting cards and building paper 3D objects. Examples of card stock include business cards, postcards, and scrapbook paper.
Paper not recommended for laser engraving/cutting
Toilet paper: Usually very thin toilet paper is difficult to process with a laser cutting machine because it can easily catch fire.
Ⅱ. Tips for laser processing paper
When laser engraving&cutting paper, you need to pay attention to the selection of materials and the setting of parameters. Let's make a brief experiment of laser engraving on paper:
Especially for the laser engraving of paper, because the paper is very fragile, it is necessary to choose a harder material. You need to reducing the power during the engraving process to prevent the paper from being penetrated.
MACHINE: MONPORT 80W CO2 Laser Engraving & Cutting Machine
MATERIAL: One piece of golden card stock 
PARAMETER SETTINGS(ENGRAVING):  
Engraving speed: 800 mm/s
Engraving power: 10%—15%   
Card stock in the laser cutting is very suitable, this type of paper is hard, not easy to fold, high ignition point, cutting is very flat, beautiful, smooth cut marks, no burrs, hollow can be completely cut out, the overall effect is good. What's more, we use laser cutting machine for paper-cutting in less than 5 minutes, very efficient.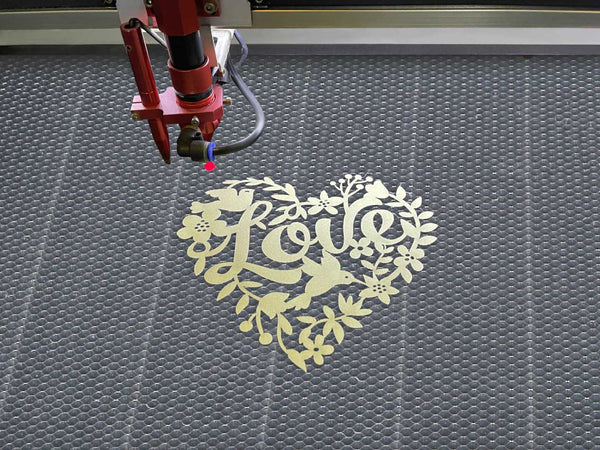 MACHINE: MONPORT 80W CO2 Laser Engraving & Cutting Machine
MATERIAL: One piece of golden card stock 
PARAMETER SETTINGS(CUTTING):  
Cutting speed: 100 mm/s
Cutting power: 15%—25%   
Paper Considerations:
Exquisite and highly flammable: The paper is very thin, which makes it easy to cut but also easy to burn. Always monitor the laser when it is turned on.
Shifting:The paper is very light and may move on the workbench due to exhaust fans or air assistance (the laser itself does not shift the paper). To prevent shifting, press the paper with small weights or tape.
Tip 1:Select Card stock: It is not recommended to use soft paper such as Copy paper. But when we really have special needs and need to use Copy paper to cut graphics, we can put a Card stock under the A4 paper to ensure that we do not damage the paper when cutting due to blowing.
Tip 2: Use Air assist: When cutting paper, it is recommended to set the air assist high to cool the cutting area, but not too high, as it blows paper fragments back to the surface and may affect the cutting of different areas.
Ⅲ. Applications
With your imagination, even ordinary materials such as paper can become extraordinary. Creative people among us know the amazing versatility of paper - and often accompanied by the patience to use it. With the precise capabilities of Monport laser engraver, you can work with amazingly beautiful paper crafts and enhance every page of your life.
With paper, you will never stop creating:
Cut-Paper Art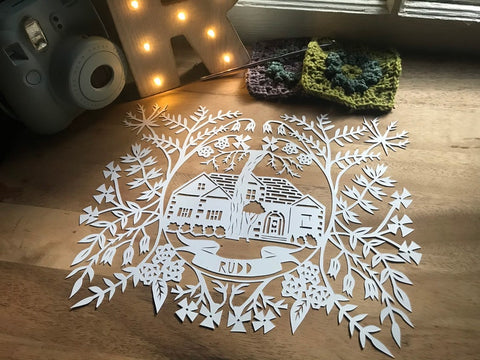 Skillfully designed and cut with precision, this delicate work-of-art is carefully cut by laser engraver. It is small, perfect for any size space, and comes in your choice of white, black, brown wood, or a hint of gold.
This makes a unique gift that will stand out and be cherished for a lifetime. Plus, the card stock can even be personalized with special color requests or a message at the bottom--just put the design to computer that connected with laser engraver!
Of course, don't forget to get one for yourself. It is truly mesmerizing to look at, so you'll never grow tired of it.
Decoration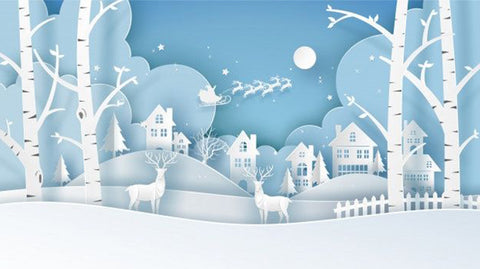 This Christmas Reindeer Scene is a unique design and can be used to decor the walls, free spaces in your home and can be gifted to someone.
Decoupage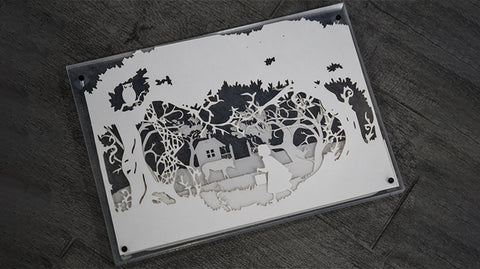 A little girl walks through the house in the forest made of paper. This unique scene is very warm. It can also make scenes similar to country houses and woodland villas. It is a unique decorative art.
Wedding invitations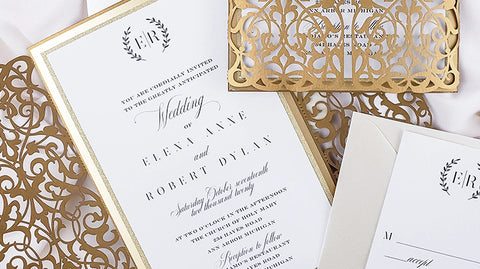 An important day is coming, it's time to tell your guests! Using carefully selected paper and stunning fonts, you can't go wrong with these simple and beautiful invitations.
Birthday cards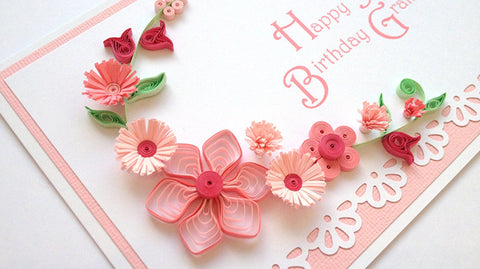 Birthday gift for mom, this is a very cute thing, once your mom received your personalized Birthday card, she will be surprised. This is absolutely precious and an amazing souvenir.
Personalized gift card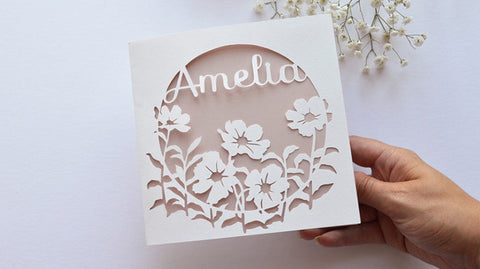 Every cut is unique! You can quote names or pictures on the card. You can also add other details you want on the card, such as architecture, flowers, people, animals, interests, etc.
Hope this article can guide you through the process of laser engraving, cutting paper. If you want to watch other tutorials or have any questions, please leave a message at Monport laser!