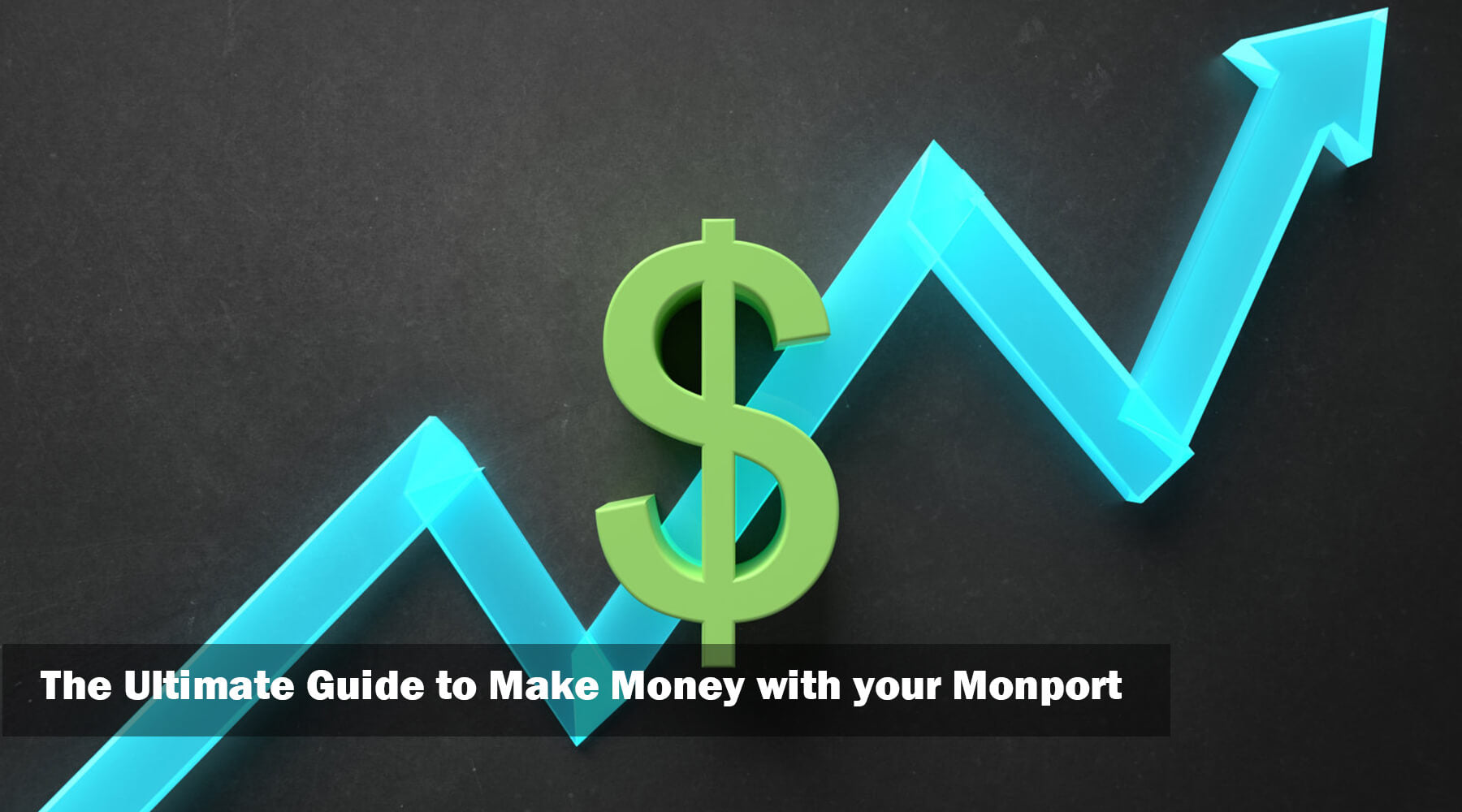 The Ultimate Guide to Make Money With your Monport
If you've been struggling with your finances lately, it's time to make some changes. You can try to reduce your spending, but generally speaking, it's not people's first choice. On the contrary, they usually increase their income by looking for part-time jobs.             
Nowadays, there are many job opportunities, but laser engraving is by far one of the most popular jobs. First, there is no market you can't target. Second, it can be very profitable. If you are considering buying a laser machine and starting your own business, please continue to read this article, because we will tell you everything you need to know.
Countless Opportunities            
The main advantage of starting a laser engraving business is that you can target many industries. For example, you can provide customers with customized jewelry. Yes, these are quite common, but remember, the demand is also very high. Nothing looks better than a pendant designed according to personal preferences. These lasers are very accurate, which means you can use them to create the most complex designs. In addition, remember that people will pay extra if you can make their vision come true. Next, large companies may hire you to engrave their products. You can work with some people in the automotive industry or leave a mark on medical products. For the latter, the inscriptions and numerical codes must be visible to the naked eye, which is why these companies have invested a lot of money in this aspect of the production process. We cannot emphasize the accuracy of laser engraving too much. It allows you to leave the smallest details on the surface.            
Finally, there are personalized gifts. We have mentioned jewelry, but the fact is that its market is very broad, and there are few restrictions because you can use this machine to leave traces on metal and non-metallic materials. Think of all the companies that can hire you with this service. In addition, each company will provide customers with promotional materials printed with their names or logos.
How to earn money with a laser engraver?
It's a very interesting way to make money with laser engraving machine. You can get extra income and even start your own business. You may be surprised that people want to engrave different things with lasers. From trophies to tombstones, there is a huge market for you to develop. Like all businesses, in order to succeed in the laser engraving business, you need to market your business correctly and provide excellent customer service and quality.          
Now that you have your own laser engraver, how can you make money with laser engraving machine? You have two main choices:         
Provide customers with laser engraving products            
Sell products 
For example, some popular laser engraving items are for your reference: 
#1 Customized coasters
Laser cutting is not only suitable for practical products such as clocks and watches, but also for coasters that protect the surface from being scratched. It is also an ideal manufacturing technology that can create unique works of art that cannot be provided by any standard store. After seeing these laser cutting machine projects, you can't wait to make them.             
Custom coasters are a good gift for housewarming. Laser cutting acrylic acid is a good way to make coasters. Nothing is more intimate than custom design and laser cutting wooden gifts according to your specific specifications. We recommend amber bamboo or other light colored wood. 
#2 Plaque / sign            
If you laser engrave plaques and signs, you are likely to provide some services to commercial customers. If you consider how many logos are used by businesses around the world, you have a lot of business opportunities. If you provide enterprises with high-quality industry standard signs, you can obtain lucrative continuous contracts, which can improve your profits.
#3 Jewelry
Laser customized jewelry is a huge market. From earrings, necklaces, bracelets and rings, there are many great design concepts, so you will see all wooden jewelry, acrylic jewelry and so on. Laser cutting metal jewelry is the perfect way to make pendants, earrings, necklaces, brooches and almost all other wearable metals. In order to obtain a more beautiful choice, laser cutting and engraving are combined to add laser engraving design to any project formed by laser cutting. 
#4 Bookmark            
One of the main advantages of laser cutting products is to cut fine details accurately and consistently. The wooden bookmark seems to come from the complex fairy tale design. Most custom bookmarks on the market are made of wood or bamboo, but other materials can also be used. Bamboo, wood and even metal can use laser engraving machine to complete customized design. (it sounds like an opportunity for us!) In any case, after seeing these design concepts, it will attract customers to buy more bookmarks!
#5 Wedding decorations            
Once your client or customer has set the date and found the location of the wedding and reception, you can start to enjoy the fun of wedding decoration. Whether the wedding or reception is in the church hall, hotel banquet hall, garden, park, backyard, the decoration chosen is to make this happy couple different. Laser cutting machine can make many different decorations, designed for a beautiful day, from the initial preservation date announcement to the wedding banquet, plus the reward items that the bride will like. 
#6 Keychains, badges, business cards         
When using laser creation, you will never be limited by design or materials, especially when using multi-functional materials. Laser cutting acrylic is the first choice of many manufacturers - acrylic is light, very durable, and can be easily cut by precision laser cutting technology. Design your own ultra-thin acrylic business cards with unique appearance and feel, make conference badges and ID cards that will not be damaged during washing, or design custom key chains in various colors. 
#7 Customized artworks
Art can be a great addition to a home and offer many benefits to homeowners. While some people are still content to get mass-produced art from the store, many are drawn to the idea of getting custom art. This is great news for those who use laser cutters as they are able to create some absolutely stunning artwork. 
From small metal sculptures to large decorative boards displayed on the wall, they can be made by laser cutting machines. These unique items look good in any room of your home and are very considerate gifts for friends and family. There are no restrictions on the shapes, designs or patterns you can display in these works of art. Create cultural projects: Let students to create cultural designs and laser cut signs or flags for them; Create multidimensional topographic map; Lasers carve their hand-painted maps on wood or cardboard. 
Where can I sell my laser engraving items?
There are many places where you can sell your laser engraving projects for money. The following ways are for your reference:             
Etsy            
Craft Exhibition(Fairs)            
Social media            
Your own website            
Local shops and businesses 
1.How to Sell Your Laser Engraving Projects On Etsy
Make sure you spend some time on Etsy and look at the laser engraving projects that sell well. Try to create your own niche market so that you can really occupy the market.
Make sure to present your project in the best way with beautiful and bright images in the Etsy list. Use good lighting and good background to show the best state of items. Be sure to show different angles. Check what others are doing so you can see what works (what doesn't). 
Tips for promoting Etsy store
You want to know the search results of laser engraving products. To do this, you need to promote your Etsy store on websites such as pinterest and Facebook. Promotion and coupon codes are a way to put your product at the top of Etsy search results. 
2.Create your own website           
If you plan to eventually become a full-time staff member, it is a good idea to set up your own website for your laser engraving business. You can direct potential customers to your website so that they can see the pictures of your works and know what you can offer them. On your website, you can display price lists and comments from satisfying customers. You can give the idea of the customization you provide, and you can also provide information about the customization work. Creating a website is not a big deal. You can start at $5-10 a month and promote your website on social media. Add links to Etsy stores to create more opportunities for product sales. 
3.Selling laser engraving projects by social media            
Social media is free and everyone is using it now, so it makes sense to use it to sell your products. You can use Facebook or instagram to promote your Etsy store or website, or you can accept orders directly from Facebook or instagram.
Facebook groups are a great place to promote your items. Find a group of moms, craftsmen and people looking for gift ideas.             
You should also create a Facebook page so that satisfying customers can leave comments and you can update your new items to your fans.            
Use Instagram to build fans and let people know about your business. You can even guide potential customers to your Instagram gallery. 
4.Craft Exhibition         
The handicraft fair is a good place to sell laser engraving works. Church and community Christmas fairs are another great place, and you'll have a lot of potential buyers. Book a stall at a flea market or craft fair and sell your goods. Be sure to make business cards so that you can accept custom orders. 
5.Local shops            
Another place to sell laser engraving projects is to ask if your local store will show you these works, or if they will ask you to post flyers to promote your business.
Can I succeed?
Oh, yes, of course. We've discussed the different things you can create, but remember that this is only a small part of your choice. Obviously, you may need some time to start making big money, but when it comes to work in this industry, many people can prove how profitable it is.            
Like any other type of business, there are many things you must consider and plan. Start by studying machines and understand their characteristics so that you can make informed decisions when buying machines and all other equipment. Then, continue to study the market in your region to understand how you should use this technology and how to make money. Finally, invest some time and energy in advertising your new company to attract customers. 
Purchasing a Monport laser engraving machine can realize most of your engraving projects, achieve the most functions with the highest cost performance, and greatly improve the success probability of your project. For any questions about laser engraving, please consult our service team.