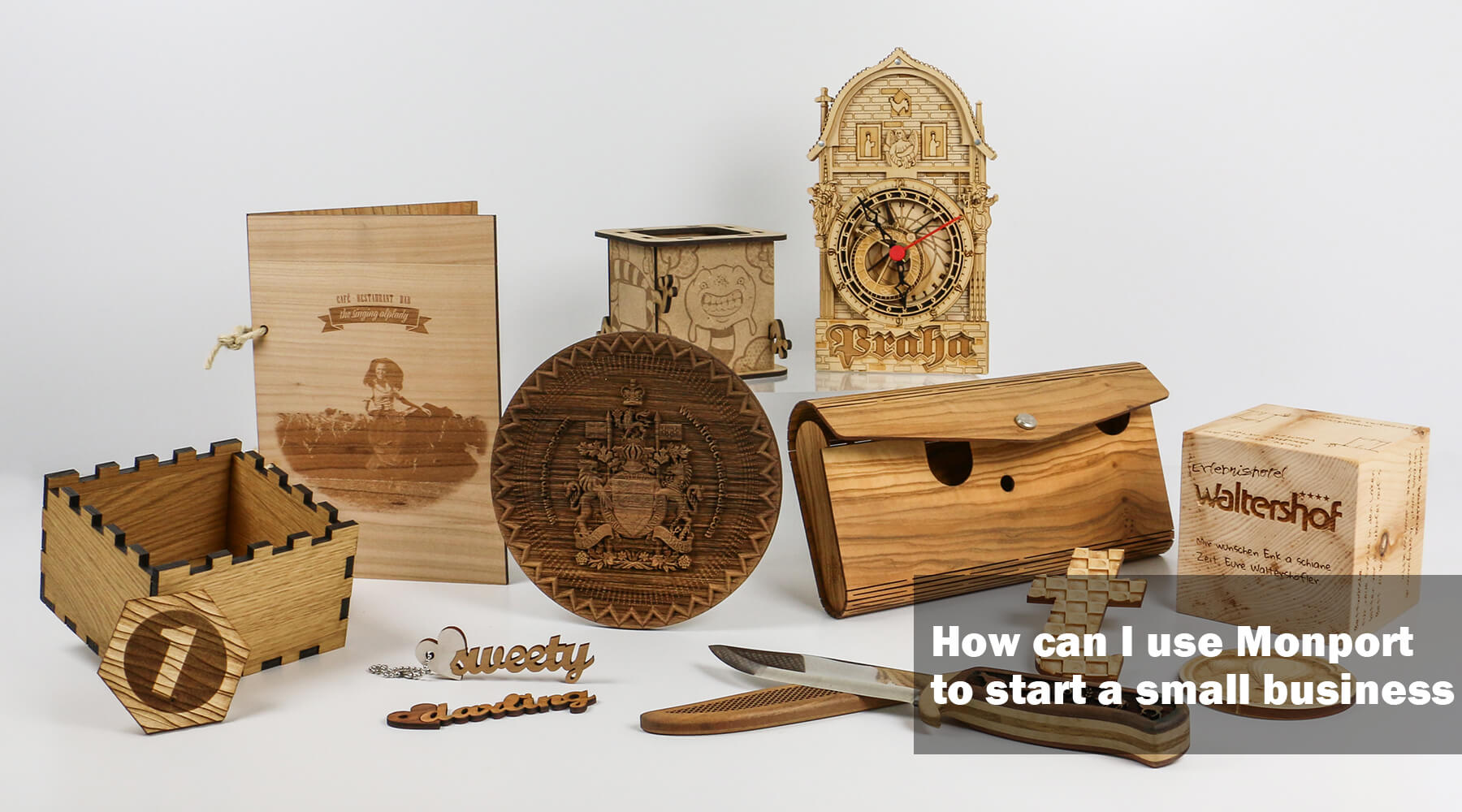 How to start a small business with Monport?
Ⅰ. Small business introduction
The rapid advancement of technology in the laser industry has opened doors of opportunity for many users. The continuous development of laser cutting and engraving machines has gradually improved the quality and quantity of engraving products on the market today.
In fact, many people have created additional revenue streams by launching laser engraving businesses. This relatively new field already exists, and engraving companies have emerged from garage workshops, family craft rooms, mom-and-pop shops, and even industrial environments.
When you think about it, some of the products you use every day have passed the workbench of a laser engraving machine or cutting machine. Products such as cutting boards, coffee cups and home decoration have all encountered laser engraving machines or cutting machines in the production process.
If you are looking for a business that is easy to learn, quick to learn and can make a reasonable profit in the long term, then you should consider starting a laser engraving business. Anyone who owns a CO2 laser engraving machine, works hard to learn the necessary skills and has the correct professional ethics can make a lot of money from laser engraving.
If you manage to capture the imagination of consumers, your small business will continue to grow and grow.
So, what's laser engraving and cutting?
Laser cutting machines use powerful ultra-thin laser beams to etch, engrave or cut materials. You can use a focused laser beam to burn, melt or evaporate images or letters into various objects to create designs and patterns. This is an automated non-contact manufacturing process based on heat, so it is accurate and low risk. These machines allow you to create complex parts with or without custom-designed tools.
This process is applicable to a variety of businesses, including sculpture, fashion, art and handicrafts, and merchandise. We will dive into the product options available to you later.
Is the Laser Engraving Business Profitable?
Laser engraving businesses can be very lucrative, provided you're willing to work hard and go through the due process. Just like any business, the laser engraving industry isn't giving money away. You need to conduct market research, find out what's in demand in your area and work hard to create a brand that connects with your target market.
Luckily, there are plenty of reasons why laser engraved products are great to make and sell, the first being the low overheads associated with laser works. Laser engraving machines are the biggest investment, and with changes in the market recently, you can get high-powered Monport CO2 laser machines for a fraction of the cost they once were. You'll need to spend a little on equipment, building a website and getting your name out there, but this doesn't have to be expensive at all.
Many people think of trophies and gifts when they think of laser marking or engraving, and while they can be money makers, you're better off thinking bigger if profit margins are a priority. Getting bulk orders from corporate or industrial laser engraving clients is where the big bucks are, which we'll discuss in detail later on.
Ⅱ. Advantages of CO2 laser cutting and engraving
Benefits of Starting a Laser Engraving Business
Profits: The beauty of a laser engraver is that you take a bland or ordinary object and turn it into something bespoke. Personalization is one of the biggest consumer trends right now, and laser engravers can tap directly into this. What's more, you work with simple materials like acrylic but transform it into something special, which people are willing to pay a premium for.
Speed: One of the reasons profit margins can be so high for a laser engraver is that you can create customized products at speed. Laser technology lets you add a design to a surface in a few seconds, which is much faster than any traditional hand-engraver would be able to achieve.
Accuracy: Laser technology is special because it's so accurate. The smaller the laser beam, the more detailed and crisp your designs will be, and the more you can charge per unit.
Eco-friendly: There are no chemical elements in your laser engraver, and it doesn't use finite resources such as ink. Provided you take good care of your machine, it'll last years and doesn't require much maintenance.
Overheads: The laser engraving machine is a one-off cost and only a small investment that you can quickly recoup once you're up and running. They don't usually require much in the way of parts replacement and can last for years. You can quickly break even as a laser engraver, which is one of the reasons it's such an attractive prospect.
Convenience: Not only should your Monport CO2 laser machine come with a detailed manual, but the best manufacturers ensure they have top-level support and curate online support communities so you can get the answer to any questions you might have.
What Makes Laser Cutting an Excellent Prospect?
A laser cutting business is a versatile prospect due to individuals and small companies now having access to the latest technology. Laser cutters were previously only available as large-scale industrial tools to etch, engrave or cut various materials. However, the demand for small laser cutting machines that fit inside your home has increased in recent years.
Low Cost
As a start-up, the initial costs of setting up your laser cutting business are low compared to many other enterprises. The market isn't saturated, so there's plenty of demand and you should easily win customers once you've carved a niche for yourself.
As with any industry, success is down to hard work and careful planning — but it's much easier when you choose a smart, relevant industry. A laser cutting business also competes with the 3D printing industry, but it's easier, more affordable and just as accurate.
No Previous Experience Required
If you're a creative type, you might produce your own products and designs from scratch. That said, you don't need an artistic bone in your body to start a laser cutting business. You can rely entirely on software and premade designs to create trendy objects. For the lowest start-up costs, you could focus solely on engraving existing objects for business or personal use.
Adaptable
The bonus of running a laser engraving, cutting and etching business is how easy it is to adapt to changing trends and an ever-evolving marketplace.
Laser Cutting and Sustainability
If starting your own laser cutting company doesn't sound enticing enough already, it has a high potential to tap into the fastest-growing consumer trend: sustainability. When you communicate your commitment to cutting waste and taking care of the environment using content marketing, you'll automatically align with many modern consumers' ethics.
People who run their business from home have an excellent starting point for explaining how they protect the environment. Your carbon footprint is already much lower than anyone running a business from an office.
Capture data that reflects your low impact on the environment and use is in your marketing strategy. You can even etch reusable metal coffee cups, custom reusable drinking straws or any other eco-friendly product currently in high demand.
As a small business owner, you have a unique ability to communicate your brand values to buyers. When customers feel morally aligned with a company, they're much more likely to make an initial purchase and keep buying.
Ⅲ. Materials for laser cutting and engraving
Excellent Materials for Laser Cutting
Acrylic: 
It's one of the best materials to use if you run a laser cutting business. Laser cutting leaves a flawless finish with polished edges. Some plastics that you might expect would react the same as acrylic, such as Lexan, are dangerous. That's why you must never rely on guesswork to know which materials work with a laser cutting machine — it isn't always obvious.
Hardwoods: 
Cherry, peach, and other hardwoods can be cut very well with a Monport CO2 laser machine. 
Paper: 
Card stock and paper cut speedily with a nice clean finish. Greeting cards or gift wrap made from recycled paper are great ideas for a laser cutting business.
Leather:
Lasers love leather. What typically takes hours to cut by hand can be done in just minutes with a laser. Just be warned; it can get stinky! If you're thinking about starting up a premium laser cutting business, leather is a great choice. We'll discuss the best industries to get into in more detail later on. 
Cardboard: 
It does cut, but it's also a fire hazard, so never leave the laser cutting machine unsupervised while it cuts cardboard.
Many types of wood: Most types of wood work well with laser cutting machines. However, you should avoid resinous or oily wood because it has the potential to combust. 
Depron foam: 
Although it's essential that you continuously monitor depron foam, it cuts smoothly and safely. It's an excellent choice for laser cutters because you can make toys, model aircraft and 3D architectural models. 
Ⅳ. Use laser cutting and engraving to make personalized products
We'll go into detail about which industries have the highest potential for making money after the step-by-step walkthrough of starting a laser engraving business. Below is a list of some of the most popular laser engraving business ideas:
Signage
Spice jars
QR codes and barcodes for industrial clients
Personalized products
Business cards
Wine glasses
Customized jewelry
Theme toy boxes
Coasters
Artwork
Medical devices
Celebration and special occasion gifts
Monport owns a series of mid-range CO2 laser engraving machines for engraving purposes, having a power range of 60-80W and are known for their efficient engraving speed and powerful cutting ability.
Hope that your Monport CO2 laser engraving machine can make your small business more handy!