CO2 laser engraving in packaging industry
Ⅰ.Laser technology optimized packaging production
Laser material processing started a change in industry. It brings quantitative improvements, such as the improvement of production speed, and quality improvements, such as the possibility of creating high value-added customized products, even on a small scale. The packaging industry immediately recognized that the use of lasers can provide unlimited possibilities for innovation.
Packaging is a basic aspect of most manufacturing industries, and laser technology occupies a strong position in this growing market. Laser strengthens and improves the characteristics of packaging materials to help them better perform their expected functions.
Packaging itself has a wide range of functions:
First, it has the function of protection. Packaging must protect the product from external factors. As far as food is concerned, it can prevent deterioration and ensure the integrity of products. 
Secondly, it has aesthetic function. Packaging must persuade consumers to choose specific products on supermarket shelves. In the increasingly rich world of consumer goods, packaging may sometimes be the only unique factor of products.
Third, it has the function of information. Important information such as composition, expiration date, production batch or bar code must be visible on the product. 
Last but not least, it has practical functions. The packaging must make the product easy to handle and use. Thanks to laser cutting, the packaging design can facilitate the use of the product itself. Easy to open packaging, such as food bags or easy to cut packaging, such as yogurt cans, are two examples of such packaging. Functional fast packaging with innovative technology is now easier than ever with laser technology.
Classification of packaging materials :
| | |
| --- | --- |
| Packaging Materials | Description |
| Paper | Packaging paper, honeycomb paper, paper bag paper, desiccant packaging paper, honeycomb paperboard, kraft paper industrial paperboard, honeycomb paper core;             |
| Plastic | PP packaging belt, PET packaging belt, tear film, winding film, sealing tape, heat shrinkable film, plastic film and hollow plate; |
| Composite flexible | Flexible packaging, aluminized film, iron core wire, aluminum foil composite film, vacuum aluminized paper, composite film, composite paper, BOPP; |
| Metal | Tinplate aluminum foil, barrel hoop, steel strip, packaging buckle, Blister aluminum, PTP aluminum foil, aluminum plate and steel buckle; |
| Ceramic | Ceramic bottles, ceramic cylinders, ceramic jars, ceramic pots;            Glass packaging materials: glass bottles, glass cans and glass boxes; |
| Wood | Packaging made of wood products and man-made wood plates (such as plywood and fiberboard), such as wooden boxes, barrels, wooden boxes, wooden plywood, fiberboard boxes, plywood boxes and wooden pallets;   |
| Bronzing materials | Bronzing materials, laser film, electrochemical aluminum bronzing paper, bronzing film, bronzing film, bronzing foil, bronzing foil and color foil; |
| Auxiliary materials | Bottle cap glove machine, mold, gasket, handle, gasket nozzle, sealing cap and packaging film. |
Laser has been widely used in packaging production, Because with the traditional mechanical method compared with (such as blades and punches), laser has superior effect, higher flexibility and lower cost. One reason is that non-contact laser tools will not wear over time. This eliminates the downtime of tool replacement and provides highly consistent results over time. In addition, in the field of flexible packaging, laser processing can be refined It is very difficult to control the notch depth and micro perforation size in machining. It also does not exert any force on the plastic film that may deform or tear it. In addition, laser processing leaves a very clean processing edge. Cutting debris can cause problems because it can attach to other parts of the machine and affect its efficiency. Laser processing also provides operational flexibility. The processing parameters can be changed by software to make it easy to switch between work or dynamic personalized packaging. In addition, these changes do not incur any tooling or setup costs. 
Finally, the laser conversion speed is fast. It can run at the speed of the web processing equipment used in modern production lines, which usually runs at a speed of hundreds of meters per minute.
Ⅱ. Different laser processing types in packaging industry   
Laser based manufacturing is very flexible and can be tested in a variety of applications. Lasers, especially CO2 lasers, can achieve the highest efficiency level when dealing with the most commonly used packaging materials, such as: 
Paper and cardboard: used in the production of boxes and packaging. These materials can be cut, marked and perforated. Therefore, manufacturers can create boxes with the original shapes to show the abstract quality of products. 
Wood and derivatives(e.g. MDF) are used to create innovative packaging. Food crates transporting agricultural products are just one example.
Plastics and derivatives: thermoplastic film polymers such as polypropylene, polyethylene and pet are the most commonly used packaging materials. Plastic film can be cut, marked or drilled to meet the most diverse needs. Food safety plastics benefit from these applications. For example, a container can be perforated to regulate air circulation or create a filtration system, but it can also be cut into complex shapes. Other applications in this field include cutting plastic films used to make various packages, including aluminized plastic films 
Compared with traditional methods, the basic advantage of laser engraving is that it can achieve very high processing speed and high precision. But the advantage is more than that. Laser technology not only allows manufacturers to improve processing efficiency parameters, but also can perform processing types that cannot be completed by traditional methods.
Laser perforating - Keeping food fresher for longer 
As the amount of waste around the world increases year by year, keeping food fresher longer is a key priority for many food manufacturers. Improved air packaging (MAP) technology uses laser perforation to adjust the level of oxygen, carbon dioxide, nitrogen and other gases in the packaging, maintain the freshness of fruits and vegetables in the packaging and prolong their shelf life. In turn, this gives consumers more time to enjoy fresh food and finally reduces waste.
High-speed marking and coding 
Food labeling legislation has become more and more strict, and the food industry is facing the pressure of labeling batch number, batch number and "latest date" on products. This information must be updated frequently when applied to each packing box. Lasers are now a popular choice for food packaging companies for many reasons, including the diversity of materials they can mark and the longer life of inscriptions compared with other inkjet printing methods. 
Laser cutting for packaging
The outstanding characteristics of laser cutting are high quality and flexibility. In production, precision is the most important standard. The non-contact laser cutting process is fast and accurate, and can produce perfect cutting effect. The material is evaporated, which means there is no debris, reducing the steps of cleaning. 
Laser printing on corrugated boxes             
The most common packaging in the printing and packaging industry is corrugated box. Corrugated boxes can be divided into two categories: sales packaging and transportation packaging. Sales packaging is generally inner packaging, which is used to meet consumers in the sales process, such as color box, white box, gift box, etc. Transportation packaging is an outer packaging, which is mainly used to facilitate storage and transportation, such as cartons, corrugated cartons, etc.
Laser engraving machine realizes engraving by spot engraving on the material surface, which has inherent advantages in gray performance. Therefore, in the carving design, the gray appearance form is very popular to reduce the coloring process and reduce the cost; On the one hand, it enriches the engraving performance and improves the graphic level. At the same time, the cost of CO2 laser engraving printing plate on paper packaging materials is very low, which is only one quarter of that of resin plate, so CO2 laser engraving plate is a common corrugated paper packaging printing method in today's packaging industry.
Laser hollowing design for gift packing 
Looking at all kinds of gift packaging, people are dazzled. In many cases, the significance of packaging has gone beyond the product itself. When more people choose gifts, they will choose packaging that looks unique and high-end. For women's cosmetics packaging, creative and exquisite packaging is more popular. At this time, the design of the packaging box is particularly important. The laser engraving machine of the packaging gift box can carve any pattern, which makes your packaging exquisite and unique. At the same time, the production cost is low and the efficiency is high! The attraction of hollowed out carton packaging is the intricate and exquisite pattern carving realized by laser hollowed out cutting machine. The carton with relatively simple shape and printing greatly improves the appearance of the carton and makes it more attractive by using smart design and ingenious laser cutting technology.
Ⅲ.How to make a packing box with laser engraver?
Card stock is a very general and popular material, which can be used for laser cutting and engraving. This sample project features card stock that we carve and cut to create custom product packaging. 
By adjusting the speed, power and frequency settings of the laser, the operator can etch text, cut shapes, and even create perfect perforation lines for folding and assembly.
Blow we have made an experiment for laser cutting packing box with our Monport 80w CO2 Laser Engraving & Cutting Machine:
Step 1: Design vector diagram
Download the above graphic and import it into your graphics software. Adjust as needed. 
Step 2: Import to CO2 laser engraving machine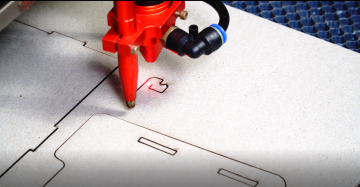 Send the vector diagram to RD-Works which connected with the CO2 laser engraver, and then set the correct parameters for your machine wattage.  
Step 3: Assemble the box
Remove the cutting parts from the workbench, then fold and assemble the paper boxes. Use glue on the inside flap.
You can make one yourself with Monport laser engraving machine, and consider adding laser cutting card stock packaging to your product lineup!  
Ⅳ. Specific applications for CO2 laser engraving in  packaging industry.
Engraved Wood Anniversary Gift Box 
This engraved wood gift box can be used as storage space for cards, photos, letters, souvenirs, trinkets and souvenirs. You also can put it in your wedding souvenir box and add the lyrics of your first song to the back of the lid.
Laser Engrave Canvas Bags 
As people increasingly tend to use more environmentally friendly paper and plastic alternatives, laser engraved canvas bags are becoming a popular laser application. Canvas is not only durable and versatile, it is also a fully customizable environmentally friendly material. These reusable canvas bags are cute and stylish, making them a great gift for any shopping lover!
Laser engraving on wine bottle packaging 
Your packaging is one of your first opportunities to show consumers the full content of your brand. Use professional laser cutting packaging to create the first impression. Details are important. When consumers know that you are not careful about the packaging, they are unlikely to trust your product enough to give it a try. Exquisite brands and well-executed packaging  allow your products to shine even in the most crowded markets. Packaging  play an indispensable role in the success of your business. 
So, after reading this article after reading this article, do you know the multiple uses of CO2 laser engraving machines in the packaging industry? If you have any questions, or if you are in the packaging industry, you are already using a laser engraving machine to work for you, welcome to share your story and leave a message below.