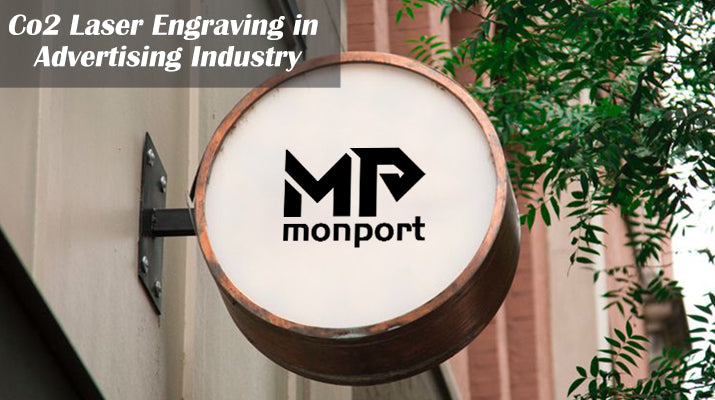 CO2 laser engraving in advertising industry
Ⅰ. CO2 laser engraving VS Mechanical engraving
The traditional carving processing industry is a manual craft with high technical requirements. The quality of carvings depends entirely on the skill level of the carvers. Therefore, the production efficiency is low, the cost is high, and the products are highly random and poorly consistent, which severely restricts the carving. The development of the industry. This makes the production of engraving machines inevitable.
Since the 1990s, mechanical engraving has been developed. From the initial cutting plotter, engraving machine to the three-dimensional engraving machine, the production process is gradually mature, and the scope of application is also increasing. It can be said that sculptures are used everywhere, ranging from the decoration of buildings to the signs in front of shops, and even the identification nameplates of many products.
However, with the development and progress of industry, engraving equipment has thus entered the industrial age. The emergence of laser engraving machines has made the accuracy of engraving more accurate, and the cost and speed have been greatly improved.
The advertising industry has always been the best stage for laser technology to display its unique characteristics. Here, laser technology can express different needs in a variety of ways such as light and shadow, vocal music, and action. The magical effect shows the characteristics of laser technology to the fullest. The application of signs is an important field in which laser engraving technology is widely used. The promotion and application of laser engraving and cutting machines has injected new vitality into the advertising industry and pushed the development of  signs to the peak of application.
Here are specific differences between CO2 laser engraving and Mechanical engraving:
The biggest difference is that the laser engraving machine uses light when traditional engraving machine uses a metal knife.
When laser engraving and polishing are completed in one time, mechanical engraving are finished in two times.
Laser engraving is a non-contact processing object, for flat engraving, there is no need to fix the work piece.
Mechanical engraving is a contact engraving, so the work piece is required to be fixed. 
Laser engraving is very good at engraving photos. You can directly engrave photos in JPG format, but traditional tool engraving cannot do this.
The CO2 laser engraving machine can engrave and cut almost any non-metallic material and the price is low! But traditional tool engraving can't do this. 
In terms of engraving fineness, laser engraving is more accurate than traditional tool engraving, because the diameter of the light source of laser engraving is very small, and the traditional tool engraving itself has a certain knife width, so in terms of accuracy, besides the quality of the machine itself, it also includes the accuracy requirements of the tool.
Laser engraving has higher-speed and is faster: Laser engraving can immediately carry out high-speed engraving and cutting according to the pattern output by the computer.
The laser has no noise, no pollution, and high work efficiency; However machinery and machinery are noisy and it will pollute the environment.
The laser can work on soft materials, such as cloth, leather, film, etc.; The machine cannot process it because the work piece cannot be fixed.
Therefore, in industries such as advertising signs, organic glass products, clothing processing, leather processing, and product marking, the advantages of laser engraving machines have become more and more widely used.
Ⅱ. Specific applications in advertising industry
Laser engraving machine helps the advertising industry realize creativity, the advertising industry is developing rapidly and is in a golden period of development. With the continuous progress of society, we have higher and higher requirements for the advertising industry. The use of laser cutting machine in advertising industry is very important. Laser engraving/cutting is applicable to all industries and materials covered by the advertising industry, which has greatly promoted the development and reform of the advertising industry. At present, there are still many problems in the advertising industry. In the traditional advertising production process, some advertising products have precise design and complex structure. They always pursue novelty and beauty, ignore the problems of production and processing quality and cycle, and are difficult to mass produce. The application of laser engraving/cutting machine can improve this and greatly promote the development of the industry.                     
Materials often used for laser cutting in advertising industry:
Acrylic
Wood
PVC board
Plastic films
Two-color board
Glass
Paper
Artificial stone
Applications for advertising industry:
1)Cutting advertising board/ logos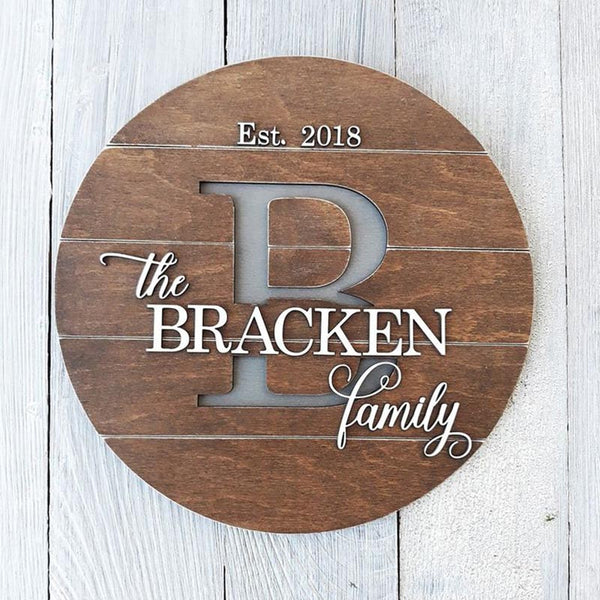 Advertising board&Logos offer businesses a chance to represent themselves in a visually captivating way. It does that using design elements like color, font, layout, and other features. Each aspect can be merged in different ways. They also follow different concepts to come up with a unique brand identity. Along with their distinctive looks come unique characteristics that can provide an advantage to your brand. The right type of advertising board/logo can even help you get closer to achieving your business goals.
When people see your ads on social media, you want them to stop and click on them obviously. But because you're competing with a million other images, your ad needs to stand out. One way to ensure that your ad looks pro is to size it right. You never want to publish an ad that has the wrong dimensions for the medium, so start your image design with a right-sized Ad template.
Want an awesome cutting advertising board/ logo? Laser engraving technology can help you. With the CO2 laser engraving machine hundreds of cutting logos can be customized in just a few clicks. You can try the cutting logo maker for free!
What elements can make a beautiful cutting advertising board/ logo?
First of all, ensuring that you use these design elements correctly will ensure that your logo is flawless. Your cut logo should represent your brand, help people remember you and provide insight into your service. Choosing the right color, layout, font and shape is the key to ensuring that your cutting logo surpasses the competition.
Secondly, you should pay attention to the following three elements.
Content type
There's an array of different logo types to choose from. Does your cutting logo need an icon or just text? Should it have a combination of both?
Content colors
Want to convey trustworthiness? Want to appear fun and outgoing? Choosing the right colors for your cutting logo makes all the difference.
Content font
In the same way colors can convey meaning, so too can fonts and typography. Need a serious cutting logo or maybe something more gentle? Make sure to choose your fonts wisely.
To create the perfect cutting design, simply follow these steps:
① Browse the library of professionally designed cutting contents
② Find a design you love and change the colors, font and layout
③ Once you're happy with your cutting content, download instantly
④ Final step, You just need import the produced graphics to the Monport laser engraving machine, click start !
2)Display racks of items: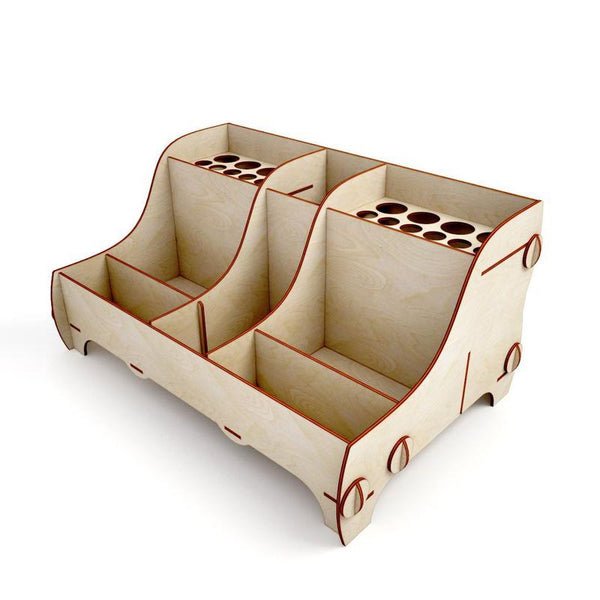 Custom wood displays are designed specifically around your products and packaging.Your packaging is used to determine what style best contributes to the overall feel of your branding. In this way wood displays emphasize and promote your distinct company image.
Wood displays make a world of difference for the promotion of your products. Custom Wood Displays get your product noticed because they are made to draw in your target market. In conjunction, the unique character of the display and its interaction with your products will get the attention of new potential customers.
Laser engraving and cutting technology is perfect for intricate cutout patterns and beautiful, branded designs uplifting your product to a level above the rest!
We can use a variety of wood lumber types to create our custom wood displays, such as Hickory & Walnut MDF, Redwood, and a variety of Hardwoods. Wood Displays flawlessly incorporate your company logo into one-of-a-kind displays. When branding displays, we offer the natural beauty of dark laser engraving for many of wood displays. You also can make displays completely created from laser cut acrylic! If you can dream it, we can make it!
3) Signs Making
What is signs? There are text, patterns and other content on it to point out the direction and the role of warning. Common signs include flat metal signs, screen printing signs, electro forming signs, aluminum signs, acrylic signs, bronze signs, warning signs, etc.
It's easy to create a sign with our step-by-step process.
① Choose your material/style
② Pick your size, choose the template you want, or start from scratch
③ Customize with your text and/or images
④ Complete with CO2 laser engraving machine
Choose your material or style of sign from the following options:
Full Color Plastic Sign
Engraved Plastic Sign
ADA Fire Exit Sign
ADA Signage
Custom Vinyl Banner
Reusable Signage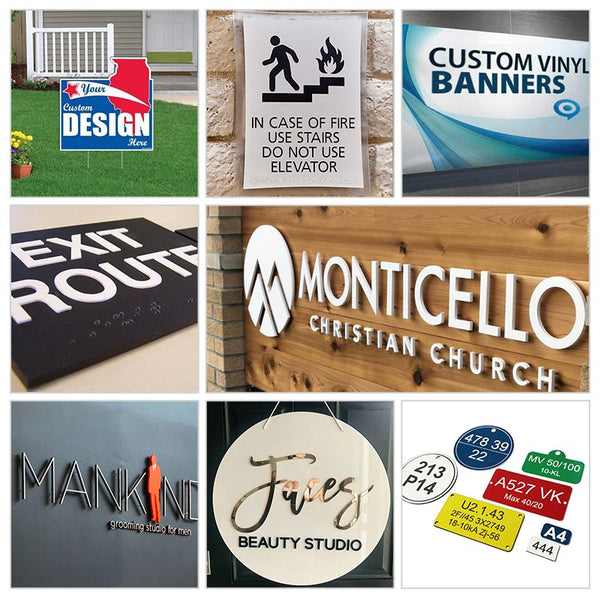 4) Nameplates
Hundreds of options to customize office name plates for the perfect, professional look.
Thick plastic nameplates engraved with names and titles. Available in many colors and sizes.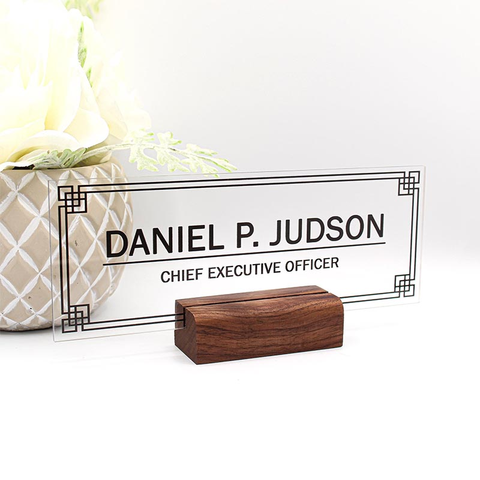 Engraving on clear acrylic, with unique shapes and holders.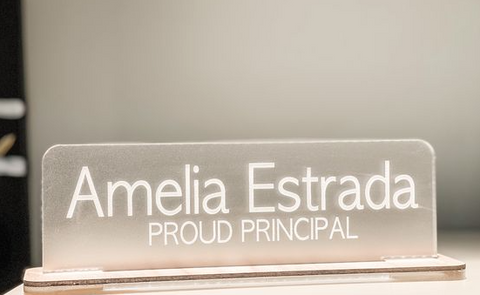 Engraved paper name plates and kits.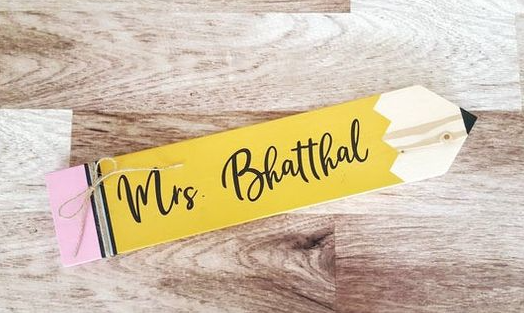 When it comes to finding a wood desk name plate that's personalized, this 100% solid, walnut will be the perfect touch for your office decor in your workspace.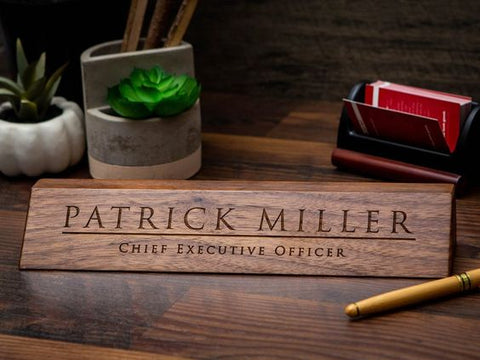 Ⅲ. What are the benefits of laser engraving for advertising applications?
Cost savings: In CNC CO2 laser engraving, no mold is required, saving a lot of the cost of producing and fixing molds.
High Precision and Efficiency: Our CO2 laser engraver offer high cutting accuracy, the material need only one time cutting, the cutting edge is smooth and no post-processing is needed.
Material Saving: Our CO2 laser engraver upload layouts to computers which can automatically configure the structure to improve material usage.
Environmental protection: No noise, laser engraving does not violate environmental regulations. The CO2 laser engraving machine greatly reduces scrap engraving/cutting and keeps the work area tidy.
The engraving/cutting of displays, signs and inscriptions with CO2 laser systems is characterized by a high degree of precision and flexibility. Many materials such as acrylic, plastic foils, textiles or wooden materials can be engrave/cut. For example, the Monport 80w's engraver speed (up to 500 mm/s) offers you more efficiency, 2.0" Focal lens provides higher resolution and etching of extremely small fonts, the machine also contains a smart and upgraded digital controller, the controller like a brain, conducting the laser head, adjusting laser power and speed settings, file viewing, project framing and works well with laser software like RDWorks, Coreldraw_laser, Auto-CAD_laser and Lightburn. This flexibility is particularly in demand in advertising technology.
Additional benefits supported by Monport laser:
Unique X Y axis aluminum guide which have the characteristic of rail-low friction, long life;
Engraving speed up to 500 mm/s offers you more efficiency;
LED headlights under the lid give point illumination for precision;
Built-in air assist system guides a pressurized air stream through the laser head nozzle to displace debris, heat, and combustible gases from the engraving surface and laser beam path, keeping engravings more precise.
Equipped with a transparent acrylic viewing window, it allows you to observe the laser engraving and cutting state. Plus, the dark sepia color protects you from indirect laser beam exposure.
Supported with BMP, PLT, HPGL, GIF, JPG, JPEG, DXF, DST, AI, PDF, RD, SVG, TIFF, TGA and other formats
We would be glad to advise you on the topic of laser cutting, and about Monport laser system and special options for advertising technology. Please feel free to contact us if you need any  further information. Join our Facebook Group and welcome to our Monport community!