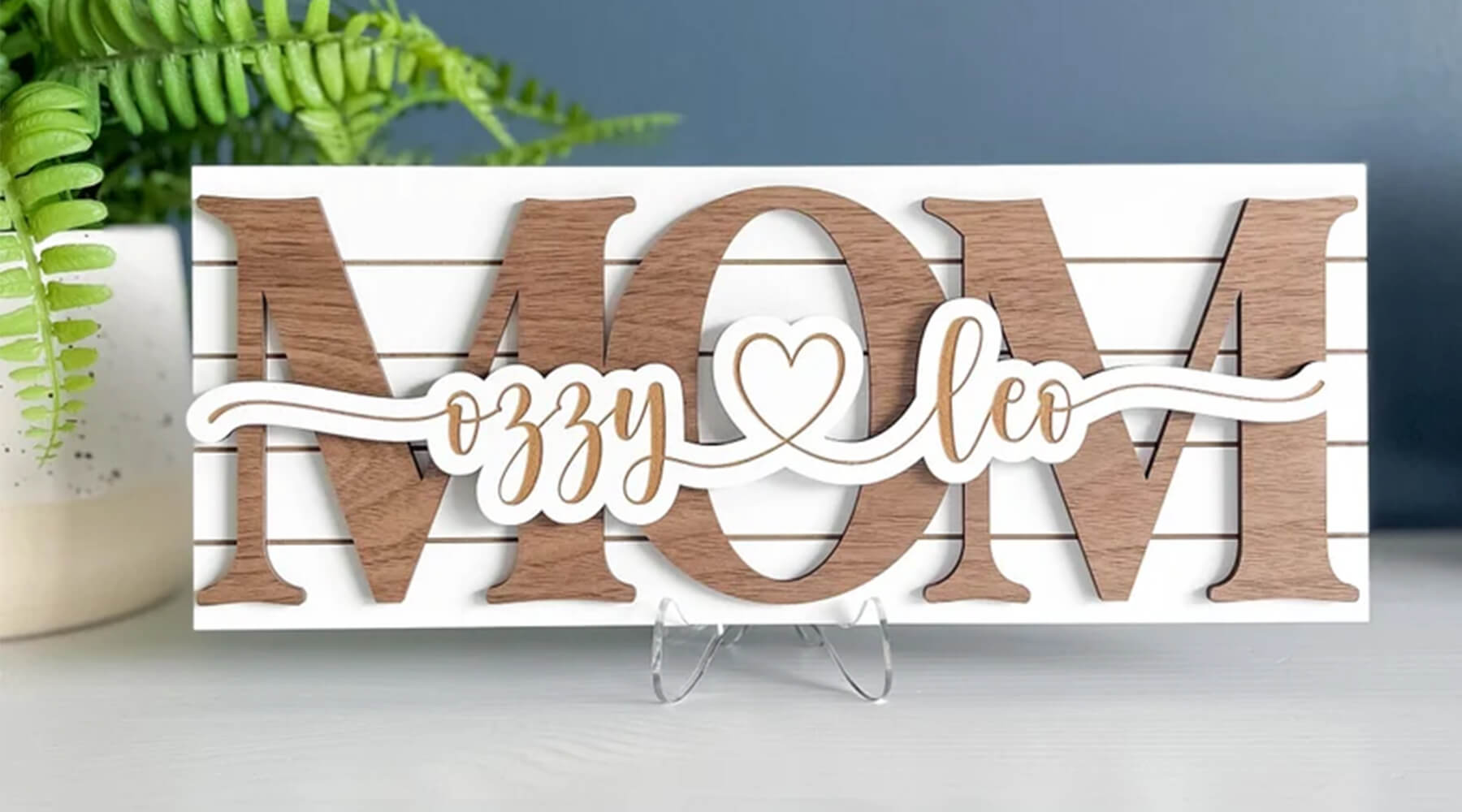 The Best Laser Engraved Gifts for Mother's Day 2023
Mother's Day is a great opportunity for laser engraving business. This is a day when people want to show their love and appreciation to their mother. But what kind of gifts can be given to show your love? We'll show you some great ideas for customizing your own laser engraved gifts!
7 Best Laser Engraved Gifts for Mom

Mother's Day is fast approaching, and if you're not sure what to get Mom, a laser-engraved gift could be the perfect solution. Laser engraving is a great way to personalize items with a message of love and appreciation.
Here are 7 great ideas for laser-engraved gifts for Mother's Day:
1. Personalized Photo Album
Laser-engraved photo albums make a wonderful gift. These albums make it easy to display your favorite photos in one place so they can be viewed easily by all family members. You can create an album that features photos of all the children or just one child, depending on how many grandchildren you have. You can also have short verses added to each page so that it becomes more than just an album — it becomes a keepsake that will be treasured for years to come.
2. Laser Engraved Jewelry Boxes
Mom will love these beautiful jewelry boxes. They are made of high-quality wood and come with free personalization. They can be personalized with a name or special message and they make a great gift for any occasion.
3. Personalized Cutting Boards
A personalized cutting board is another great gift idea for Mother's Day. You can engrave special words or names on this gift, making it truly unique and meaningful. Mothers will appreciate the thoughtfulness behind this beautiful wooden board, which they can use in their kitchen to chop vegetables or slice fruit.
4. Framed Photo Collage
Show off all the memories you've created with your mother by creating a beautiful photo collage for her walls with our easy-to-use design tool. Choose from dozens of frame styles and layouts, then add photos from Facebook or Instagram using our exclusive social media integration tool. Once you're done designing, we'll print it on high-quality photo paper and ship it straight to your door!
5. Personalized Aprons
Aprons make great gifts for moms because they're something that will get used every day in the kitchen while cooking or baking treats for her family members! A personalized apron is perfect as a Mother's Day present because it shows how much you love it.
6. Sterling Silver Earrings
Silver earrings make great gifts because they are attractive and versatile enough that anyone can wear them without having to worry about whether or not they will match their outfit! You can purchase sterling silver earrings from most department stores but if you want something unique, consider getting them engraved with an important date (such as the day she gave birth) or your name and hers together on the back.
7. Personalized Mother's Day Gift Baskets
Gift baskets are always a win, especially when they are personalized. For example, you can get a beautiful gift basket that is designed to be filled with chocolate and other delicious treats. You can have the basket engraved with your mom's name on it or even include some personal touches such as pictures of her and her family members. Your mother will love this gift.
 
Gift Ideas for Different Types of Moms
If you're looking for a gift that will make your mom feel special and show her how much you care, then we've got some great suggestions. Whether she's tech-savvy or crafty, gardening or fashion-forward, there's something on this list for every type of mom.
Tech-Savvy Moms: If your mom loves gadgets and gizmos like drones and 3D printers (and let's face it--who doesn't?), then an engraved USB stick might be just what she needs! The best part? It can hold all her favorite photos and videos so she can take them anywhere she goes without having to worry about losing them in transit.
Crafty Moms: For the creative types out there who love making things with their hands--from knitting scarves to painting landscapes--a personalized stamp would make an excellent Mother's Day gift! This way they'll always have something fun to do when they need some downtime from work or schoolwork.
Gardening Moms: If your mom spends most of her time outdoors tending her garden or working on landscaping projects around the house (or both!), then consider giving her something special like a personalized pair of gardening gloves with "Mom" written across them in gold lettering.
Fashion Forward Moms: If your mother loves fashion as much as we do here at LaserAway HQ (and really who doesn't?), then why not get her something stylish like these custom sunglasses? They come in different colors so everyone can find one that matches their personality perfectly!
DIY Laser Engraved Gifts
Tools needed:
A laser engraver (you can choose Monport 100W Laser Engraver)
Materials required:
Wood, metal or plastic. You'll need something to engrave on.
Either an image you want to transfer onto the material or text that you want to write out in a font that looks good when engraved on your chosen material (if you don't know what font looks best with what material, we've got some suggestions below).
An image or text file saved as a .png file
Conclusion
The laser engraved gifts for Mothers Day are a great way to show your mom how much you appreciate her. They're also a good way to let her know that you care about her and want to make her happy.
The best part about these gifts is that they can be personalized with whatever text you want, making them even more special for the recipient!