11 Laser Cutting & Engraving Valentine's Day Gifts
Valentine's Day is a special occasion that speaks of of love and care. Everyone has their own unique and personal way of expressing their love for each other. A Gift is affordable and perfect for the purpose. When it comes to gifts, laser processing is an absolute piece of cake to create stunning personalized gifts for your loved ones. 
With laser technology, you can cut/engrave a wide range of materials such as wood, acrylic, paper and more in a very fast and economical way with flexible design opportunities. 
Maybe you will order gifts directly from the store, but please remember that making it yourself may be more warm and impress your partner! Let Monport Laser complete your Valentine's Day gift with you!
Idea #1. Heart Shaped Chocolate Box
This laser cut and engraved heart shaped chocolate box, which is perfect for any special occasion. Show your special someone how much you love them with this heart shaped box. This heart shaped box is beautiful! Imagine you can't wait to give it to your husband on Valentine's Day! It can be filled with his favorite chocolate! 
Idea #2. Laser Cut Jewelry Box
Who doesn't love jewelry as a gift! They are definitely a woman's best friend. But when this gift is hidden in a beautiful laser-cut heart-shaped box, it's like icing on the cake! Laser cut the plywood and glue them together by hand with wood glue. After the final polishing, the multi-layer wood art is inlaid on the box, and the inside is pasted with leather. This multi-layer wood art will add an elegant and unique look to your home. Specially designed with extremely detailed patterns to give you a wide range of visual abilities. Each layer has a slightly burnt edge, which also gives it an antique feel. Perfect as a storage box or jewelry box. They can also be given as gifts to friends. Surprise your loved one by putting jewelry in it, you deserve such a gift for Valentine's Day! 
Idea #3. Laser Cut Wood Earrings
Wood is natural material and unfinished. Variations in the wood's grain and color are welcomed distinctions making each piece unique. These earrings are finished on nickel free brass earwires in your choice of gold, silver or antique gold finish. These boho style, lightweight, laser cut wood earrings are both functional and fun. No woman will refuse jewelry. Who wouldn't want to receive such a gift on Valentine's day? 
Idea #4. A Wooden Photo Frame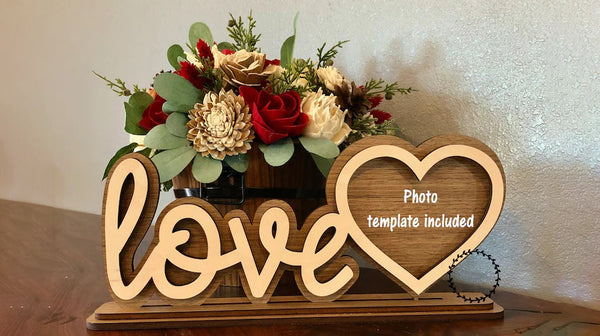 Create your own photo stand! Laser engrave, cut and assemble a fun gift! When you receive a photo of a moment you love, this one is a sure winner! This photo stand consists of three layers, with a beautiful appearance and full of three-dimensional effect. Import SVG files to design and test for laser cutters. For the photos included, 1/4" maple plywood was used, stained and painted with acrylic paint. Assemble the parts using wood glue and/or super glue. Finally, measure the size of the photo frame and choose the appropriate photo to put it in. 
Idea #5. Laser Engraved Wooden Photo (Photo Engraving)
Capture the most precious moments with your love, take a great photo or selfie with him/her and add your deepest and sweetest words. With the Monport laser engraver, the engraving will be completed in tens of minutes, surprise your loved one with your Valentine's Day gift.
Laser engraving this laser engraved wooden Valentine's Day gift as a gift for your wife. A custom wood photo is worth a thousand words. Make your memories even more special! 
Idea #6. Laser Cut Rose
Use wood, clear acrylic or frosted acrylic material. Laser cut the material with a Monport laser engraver and import a personalized picture of the rose with the name. It's perfect as a Valentine's Day gift. These roses are professionally designed. Laser cut on our precision laser engraver, made of natural wood, frosted acrylic clear acrylic. The item can be personalized, or you can write your own words on it, like saying" i love you" to your girlfriend on Valentina's Day! 
Idea #7.Heart Shaped Mandala Art Decoration
This heart-shaped mandala is laser cut from walnut plywood. It consists of three layers. The middle layer is painted red and the back layer is engraved. You can personalize this logo with your own prints. This unique artwork will look good on the booth. It is unique, unlike any other logo you see in the store. It can add this beautiful element to the decoration of lovers' homes! 
Idea #8. Laser Cut Light Shadow Box
Sometimes finding a meaningful gift can be a real challenge. If you are looking for a different product, this is for you. The lightbox is always ready to express your feelings. Write us your message and the romantic light of the light box will be reflected on the wall for you. 
Design the vector graphics in advance, import the laser engraving machine, laser engrave the five sides of the wooden box, and assemble it. The shape of the light box is a cuboid. Use warm white high-power LED. This will help you reflect your information and shape more clearly. This led can use two AA batteries. Batteries are not included in the package. 
▶Material
-LED bulb (lifetime over 10000 hours)
- High quality harmless wood (MDF)
You can add dates, symbols to your messages. You can also choose uppercase or lowercase letters. This light box is a unique choice for your girlfriend's Valentine's Day gift!
Idea #9. Personalized Leather Bracelet  
Personalized Leather Bracelet For Men and Women. The perfect Valentine's day gift for him - or her! Use the Monport Laser Engraver to laser engrave what you want to say on the inside of the leather, measure the size of your boyfriend's wrist, and be sure your boyfriend will love his bracelet and the secret message hidden inside. This is the sweetest gift for anyone who loves bracelets! 
Idea #10. Laser Marking Rings
Laser marked on the inside of a metal ring, the perfect gift for any occasion! Personalize the inside of this ring with a message, signature or fingerprint for a sweet and functional gift. Customized with love, it must be a special charm that they will treasure for many moments to come. Double-sided engraving can also be used to double the sweet mood. 
MATERIAL: Gold Plated / Silver Plated / Rose Gold Plated
Idea #11. Couple Photo Cufflink
Use a laser engraving machine to engrave your loved one's photo on the cuff with laser engraving technology, custom stainless steel cuff Valentine's Day gift! This pair of Men cuff links is made of stainless steel. Customize photo cufflinks for your boyfriend or husband. It will be the perfect Valentine's day gift, anniversary gift, or boyfriend birthday gift.
Are you ready for your unique Valentine's Day gift?             
These are just some unique ideas for Valentine's Day gifts that will make your lover feel special and show your loved one how much you care about him. You can do more to make your day as special as your partner! Be sure to look at Monport's entire Valentine's Day selection and find them a unique gift today!            
Remember, it is the thought that counts - Let Monport laser help you turn your ideas into a lasting and meaningful gift!