Laser Cutting&Engraving laminates
The Laminates material is made from multiple thin layers. Sometime some material is cheap, but it is not easy to cut or engrave; sometimes some material is expensive, but it is easy to engrave&cut, If we use the two materials to press together, then using laser machine to mark on the two materials laminate, Not only get the economical price but also can come true the beautiful appearance.So this article will introduce laser cutting & engraving laminate.
Ⅰ. One of the most variable materials - laminates
Laminate, a long-lasting surfacing material available in a variety of designs, colours, textures and patterns, In common life, laminate is the most variable material you may have ever tried with laser engraving and cutting machine. Most laminates are easy to mark with a laser machine. What is the common types of laminates?Laminate can be classified into several parts based on uses, thickness, pressure, finishing, and other properties. The detailinformation is as below:
| | | | | | |
| --- | --- | --- | --- | --- | --- |
| Usage | Thickness | Manufacturing process | Surface Finish | Advanced Properties | Material |
| Decorative LA | Regular LA | High-Pressure LA(HPL) |  Solid Colored LA | Fire Rated LA | Core or Bottom layer |
| Industrial LA | Compact LA | Low-Pressure LA(LPL) | Gloss Finish LA | Outdoor UV LA | Decorative layer |
| / | / | / | Matt Finished Laminates | / | Protective layers |
LA=laminate in the sheet
These subdivided laminations can extend into more laminations materials.
What laminate Is Good For Laser Cutting?
External laminate is a laminated modified acrylic sheet. it is suitable for laser engraving/cutting, It is stable and highly durable.
Flexline Laminate has a micron thickness foiled surface on a modified acrylic base. it is suitable for laser cutting/engraving.  it allows for fine detailed engraving.
Reverse Laminate is a laminated modified acrylic sheet. it is suitable for laser engraving/cutting. It is stable. The clear surface has a protective coating. Whilst the coloured base should be engraved in reverse. This product works well with water-based paint infill or back-lit.
Brushed laminate is an acrylic capped laminate with an ABS base. It is suitable for engraving.  it is suitable for both interior and exterior use. With 3 ply options available, this flexible laminate is the ideal choice for key fobs and touch control panels or any other application where general 'wear and tear' is expected.
Laserfoil Laminate is 0.2mm foil laminate. it is perfect for convex applications. This product is suitable for laser engraving/cutting. it is easy to engrave with either a rotary tool or laser machine. Supplied with a self-adhesive backing. 
Ⅱ.How to engrave/cut acrylic laminates?
Step 1 
This is a very important step and should not be overlooked, if you don't want to waste valuable acrylic laminate and time!Test the whole process first on a piece of scrap laminate before commencing the full job.0.2mm thick - modified acrylic laminate cap & base. 2.7mm thick modified acrylic core. (3.2mm thick laminate sheets). 1.1mm thick modified acrylic core. 
Step 2
Regardless of thickness, we can generally cut this acrylic laminate in one pass. We use a 80 watt machine and the settings used are as follows:Power63% and speed of 14% on the 1.5mm thick acrylic laminate. Power of 63% and speed of 7% on the 3mm thick acrylic laminate.Now, whilst we doubt our settings will work on your machine. We recommend that you try to find your best parameters. We highly recommend you do not use 100% power for this process. As on acrylic laminate we have found that when you put too much power through the beam, it causes a very sticky residue which is difficult to remove.It can sometimes be better to reduce the speed a little as opposed to increasing power. 
Step 3
Once you are satisfied that the acrylic laminate has been cut through. Remove the protective coating from,the surface of your cut plate. Avoid lifting the cut plate off the bed to ensure the location remains,the same for the second part of the process.If your plates are small and likely to move, when stripping the coating. We suggest you invest in a re-useable Multi Matt, which will hold the material firmly in place. 
Step 4
Spray a fine layer of furniture polish over the surface of the plate and lightly buff. This will put a fine wax layer onto the surface of the acrylic laminate. Not only will the polish remove the sticky residue caused by the protective coating. But it will form a thin barrier on the plate to help prevent the smoke residue sticking to the surface, thus making it easier and quicker to clean afterwards. 
Step 5
Set the machine to raster (engrave). We use a 80 watt machine and use the following settings on both thicknesses of acrylic laminate.Power 50%. Speed 80% 
Step 6
Certain colours within this product range (Red, Blue, Green, Burgundy & Brown) will generally
require a second pass to simply remove the discoloration caused by the smoke.
Our Suggestion for Cutting&Engraving Laminates

 
Notes and tips on engraving &cutting laminates
Make sure to have the laser beam correctly focused onto the top surface of your material.
Use a focusing lens with the smallest focal point (spot size).
Don't engrave too fast. The laser needs time to charge and discharge to keep a crisp edge of theartwork / lettering.
Use the minimal amount of laser power to get through the topsurfacelayer.
Redirect the air flow direction. The air flow should point in the direction that the Y-axis is moving. Ifthe art/letters are engraved from bottom to top, then the air should be pointing toward the top. Thisprevents the fumes from being blow into the letter/art incision.
 If cutting & engraving plastic laminates. the fumes can blow back onto the material surface and bondto the original plasticlaminates, put a super thin layer of "wax" on the plastic laminates and prevent the fumes from bonding with the plastic laminates surface. The fume dust can be easily washed off, but make sure to give the dust / fumes time to dry. You would otherwise be wiping a tacky goo into the engraved slots. 
On the speed of the engrave process. Your software may have Power and engrave speeds (RDWorks), record this number then it doesn't need you test the machine parameter.
Ⅲ. Applications
These laminates offer enhanced dimensional stability and are highly resistant to high temperatures. High-pressure laminates can be used in several places. it is ideal for an array of surfacing applications in both residential and commercial spaces. The sturdy structure of these laminates makes them last longer than most of the alternatives on the market.
Typical Applications
Memorial Plaques&Signage & Control Panels & Labelling Safety Signage  
Nameplates & Badges & Key Fobs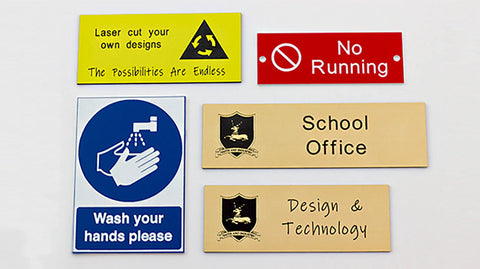 Suitable for applications where resistance to high temperatures is required.
3 ply products allow for double sided engraving.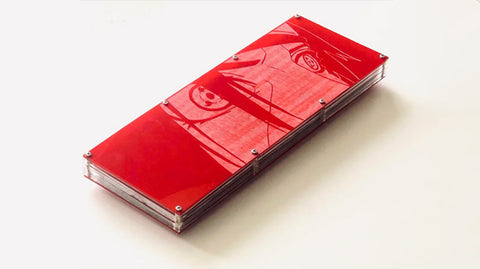 Automotive parts & Keyboards

Tools and handles of tools

Buttons and switches with day & night design

Housings made of plastic & Packaging

Doors & Wall panels& Furniture and wardrobe & Vanity units & Kitchen interiors

Office Furniture & partitions & Storage Units & Reception & Conference rooms

  Retail shoplift & counters & Worktops

Hope this article can guide you through the process of laser engraving, cutting Laminate Using the Monport laser system, Laminate engraving &cutting becomes more efficient, cheap and environmentally friendly. If you want to try laser engraving on Laminate, add the Monport machine to your shopping list!