Laser Engraving, Cutting and Marking Logo & Sign
Ⅰ.How much do you know about logo and sign    
Signage is a product that integrates planning, architecture, space, sculpture, logic, color, aesthetics, and materials. It is neither a simple text nor a so-called brand. It is a unique work of art that blends with the environment! 
Signage Function 
First, logos and signs have the function of marking, and the signage mainly expresses its function through vision. For example, text communication; signs and signs have symbolic, directional, suggestive, and so on functions. The text style can express character and background. It shows symbolic and constructive meaning.
Second, logos and signs are a kind of information conveying medium. It has the function of ADVERTISEMENT. 
Third, logos and signs perform industrial functions and roles. In today's high-tech modern automated society. With the demands of social construction, the sign manufacturing industry will have its own position. Signage Signage Signage with a larger scale basically meets all the needs of today's high-tech modern automation society. Therefore, we cannot call the signage manufacturing industry a simple labor industry. 
Classification of logo and sign 
According to environmental conditions, identification signs can be divided into two categories: indoor and outdoor. Indoor signage mainly refers to all kinds of signage on the exterior wall of the building and inside the building, mainly including: 
House Sign;
House Number;
Floor Sign;
Floor Distribution Sign;
Indoor Pointing Sign;
Indoor Space Function Description Board;
Indoor Publicity Notice Board;
Indoor Warning Board;
Evacuation Plan And Evacuation Guide Board;
Background wall sign. 
In terms of materials, there are mainly divided in three:
Non-metallic materials:
Acrylic
Two-Color Board
Pvc
Plexiglass
Wood 
Metal material:
Stainless Steel
Iron
Zinc Alloy
Brass
Aluminum Plate 
Ceramic material:
Pure Ceramic
Metal Ceramic Composite Glass
From the structural division, there are mainly: 
personalized design;
ordinary aluminum alloy profiles;
special aluminum alloy profiles.
Relatively speaking, the structure of indoor signage is relatively simple, and the materials and craftsmanship are more exquisite.
Outdoor signboards mainly refer to all kinds of signboards in the external environment of buildings, including:
1) Building Name Plates
2) Building Guide Plates
3) Multi-Directional Signs
4) Building Description Plates
5) Outdoor Warning Signs
6) Outdoor Space Function Description Signs
7) Outdoor Publicity Signs
8) Parking Signs
9) Safety Assembly Point Signs
10) Regional Environmental Traffic Signs
Ⅱ. Laser engraving, cutting and marking logo & sign.
Use laser machine to process a variety of different materials to meet your brand needs!
1.
Marking logo and sign on metal
Laser marking machine is both energy-saving and efficient, and it is the best choice for metal sign processing.
First, let's take a look at what is a metal sign. Metal signs are produced by different production processes such as polishing, engraving, stamping, die-casting, etching, printing, electroplating, etc. They are widely used in auto parts, electronic communications, process processing, pvc pipes and other fields. The production of metal signs is mainly made of stainless steel and copper. , Iron, aluminum, zinc alloy, titanium and other raw materials, the products include nameplates, badges, badges, medals, commemorative medals, commemorative coins, craft signs, hang tags and other metal signs. 
Parameter setting takes the stainless steel marked by Monport laser 20W fiber laser marking machine as an example:
Laser marking machine solves the daily processing of metal signs with different patterns and shapes. It has the characteristics of high precision and high-speed processing. It not only solves the practical problems, but also reduces the production cost and creates higher profit value for customers. Nowadays, the application of laser marking machine for metal sign has not only become a trend, but also a demand.
2. Laser engraved wooden signs
The most suitable for making wooden signs is laser equipment. Dark cutting edges and brown or white engraved graphics are special design elements for wooden products. A professional  CO2 laser cutting machine is behind an exquisite wooden sign.
Because wood laser engraving does not need to cut through the work piece, the energy required is relatively small. Laser engraving is a non-contact processing method. Compared with traditional mechanical processing methods, laser engraving has the advantages of no sawdust pollution, no tool wear, no need to change tools, and no noise pollution (very low noise). The focusing lens of the laser cutting head focuses the laser to a small spot, the diameter of the spot is generally 0.1 to 0.5 mm. The focus of the laser beam is located near the surface to be processed to melt or vaporize the processed material. At the same time, the airflow coaxial with the beam is ejected from the cutting head, blowing out the melted or vaporized material from the bottom of the incision.
3. Laser cutting acrylic sign
Acrylic sign, also known as plexiglass sign, is a popular glass substitute, which is suitable for indoor and outdoor in all industries. These signs are very durable, UV resistant and modern in appearance. This material is highly sought after because of its versatility and color fastness. Acrylic has anti yellowing properties and transparency that can be restored by polishing. It is waterproof, fade resistant and weather resistant.           
This material is widely used in the signage industry to create custom, three-dimensional, luminous and printed acrylic signage. Also known as plexiglass signs, custom acrylic signs provide a variety of styles.
4. Laser engraving logo on leather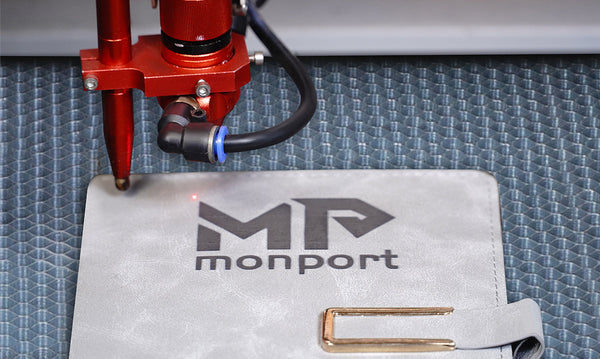 Using laser engraving machine to engrave or mark your brand logo on various leather products (including shoes, belts, wallets, notebook, etc.) is a good way to improve brand awareness. Use any of our Monport CO2 laser engraving machines to create unique high-quality finishes for your items.
5. Laser engraved Plastic Signs
Plastic signs are the perfect combination of performance, economy and versatility. These signs are designed to be durable enough to be used outdoors. They are economical alternatives to stronger signs. These signs can be used for many years under proper maintenance and storage. Plastic signs made by laser engraving machine can be used for indoor or outdoor applications, such as direction signs, building signs, real estate signs, trade exhibition signs, giant checks, etc.     
Plastic signs are ideal for wall mounting, hanging outside the store and a variety of other display options. Our plastic logo can be cut into almost any shape. It can be single-sided or double-sided. It is environmentally friendly and recyclable. It is most suitable for larger logos and fonts.
Try to create your own engraved logo and sign with laser engraving and cutting machine! Laser-engraved logo series are high-quality, laser-engraved, durable and fully customized. Personalize engraved signs for your business, office, home, Choose from a variety of popular sign sizes, installation options, shapes, colors, and materials to meet your specific needs.
Our easy-to-use Monport laser machine has a simple process to help you create an engraved logo that is completely matches your specifications.
Ⅲ.Application case of laser processing in ad  industry
Laser cutting machines play a vital role in the advertising industry. The  laser cutting, engraving and marking machines are suitable for various industries and materials covered by the advertising industry, which has greatly promoted the development and reform of the advertising industry.
Obviously, there are still many problems in the current advertising production industry. In the traditional advertising production process, some advertising products have sophisticated designs and complex structures, blindly pursuing novelty and beauty, ignoring production and processing quality and cycle issues, and some personalized advertising design and production processes are complex and cumbersome. It is difficult to mass produce; some bad manufacturers will cut corners in the process of producing finished products. How easy it is and how to do it seriously affects the beauty of the design. There are many similar problems, and the application of laser cutting machines can improve this and greatly promote the development of the industry. Laser cutting machine fiber is the energy released when the laser beam irradiates the surface of the work piece to melt and evaporate the work piece, so as to achieve the purpose of cutting and engraving. The cutting precision is high, and the speed is not limited by the cutting pattern. Automatic typesetting, saving materials, and cutting smoothly.
The use of the laser system to cut displays, signs and inscriptions is characterized by high precision and flexibility. Many materials can be cut, such as acrylic, plastic foil, textiles or wood materials. 
Laser cutting business sign    

Laser cut wooden business signs. Elegant and powerful graphic elements for business lobby or door. It is made of beautiful wood bent: walnut, maple or bamboo. Our custom laser cut logo can contain a variety of materials and colors. Acrylic plates can be added engraved with additional information.
Office sign
Laser cut metal office logo will bring a beautiful finished appearance to your work space. The laser engraving machine can incorporate your logo, mascot or other commercial aspects into the logo design of integrated marketing. 
Rustic Sign 
The rustic logo is one of the most popular laser-cut wood logo options for commercial fronts, city parks, home addresses and wall decorations. Each laser cut sign has fully customizable options.
Outdoor sign
The outdoor logo was created to bring beauty to the surrounding area and leave a deep impression. Each metal sign is sandblasted, primed and powder coated to prevent rust and corrosion. 
Laser cut park signs
Does your community need a new laser-cut city logo? Using a laser engraving machine, you can create a logo in your city, integrating your ideas, designs, city logos, landmarks, etc. into one.
Laser engraving, cutting and marking techniques can be used to make various signs, which are suitable for home decoration, commercial fields, cities, etc. Including but not limited to the following applications: 
Indoor and outdoor signage
Nameplate
Trophy marking safety signs
Signage
Advertising signs
Control panel
Industrial engraving sign board 
Monport laser engraving machine is a universal tool suitable for various materials. High-speed, effective, and create higher turnover by adding additional business. Therefore, you can expand your product range and create more profits by relying on new creative product ideas. It can be very cost-effective to carry out single product, small batch and mass production. Non-contact processing helps save time and can process the thinnest materials.