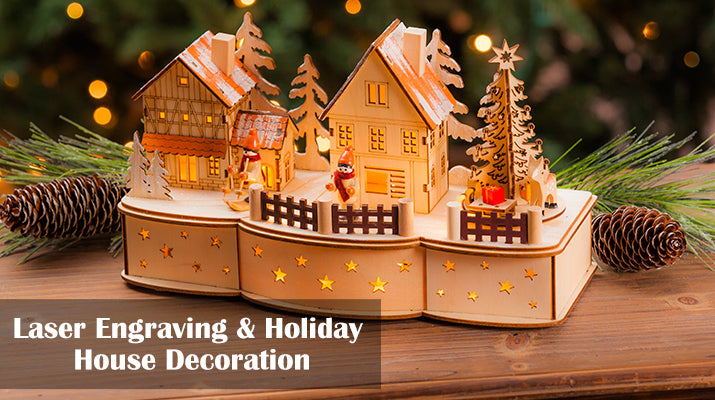 Laser Engraving & Holiday Home Decoration
Ⅰ Holiday home decoration intro
Everyone likes to update their home decor before and after the holidays, and we all like to share gifts. Therefore, this is also a great opportunity to develop a small business. For small business owners, this is a good market. From wall decorations to wooden crafts and custom laser-cut Christmas gifts - the possibilities are endless.Let's find high-quality handmade gift ideas together and provide you with inspiration for creating with new laser cutting tools.
Ⅱ Application of laser engraving machine in holiday decoration
With these easy-to-make projects, impress your friends and family this holiday season.
This is a list of 12 great holiday gifts you can make with a laser.
All the following items are exquisite customized gifts, you can hide them under the tree or in the room. They also make thoughtful host/hostess gifts for all these holiday parties. What do you think is the best part?
Laser engraved leather notebook. This is a practical and beautiful gift
This fun gift is perfect for aspiring writers or travelers who want to document their latest adventures. It can also make exquisite guestbooks for weddings or sketchbooks for budding artists! The leather is exquisitely engraved and cut with laser, and the appearance is very simple.
Laser engraved custom rolling pin.
Use these custom rolling pins to take cookies and pie crusts to the next level! A variety of baked goods can be customized using the rotating attachment on the cheap rolling pin. Even if you don't go this way, you can still flash past your pies and biscuits with a laser.
Laser etched wine glass.
Whether you decorate them with holiday messages or other designs, wine glass sets are cheap and can be beautifully engraved with a laser!
Custom recipe cutting board
Laser engraved wooden chopping board.
Try laser etching the beloved recipes of relatives or family and friends on wooden cutting boards instead of ordinary carvings. It is a wonderful gift that can be passed down from generation to generation!
It's not just laser-cut ornaments that you can make using a laser cutter; you can design and make festive figurines. Children like to play with themed toys around the holidays, and you can even use them exclusively for Christmas, because parents like to teach their children Christmas stories with the nativity scene.
As a technician, you can draw your design using easy-to-use software and then upload the 2D image to the laser cutting machine. Then the tool quickly completes all the hard work, so you can make a large number of laser-cut wooden figures in a few hours. This efficiency is one of the main reasons that CO2 lasers have become such an excellent production and manufacturing method.
Woodworking used to be time-consuming, so creating wall art for holiday must be the reserve of people who had honed their drawing and design skills for years. With a laser cutting machine, there's very little artistic skill required. Provided you're creatively minded enough to come up with ideas and use the 2D drawing software (which takes no time to learn), you can make wall art that rivals accomplished artists' designs. 
Most people send out at least 10 greeting cards for holidays, and in many cases families send out significantly more to their friends and relatives. Laser cutting machines work fantastically with cardboard and paper, letting you cut elaborate designs at high speeds. There are so many ways you can make your festive greeting cards unique, from embossing them to adding pop-up scenes in the middle. 
People like to give and receive handmade gifts, but putting them in cute handmade gift boxes can take the experience to the next level. Make boxes with exquisite patterns or designs and sell them at high prices.
Snowflakes are elegant and beautiful, and many people will hang ornaments in their homes in winter. You can choose to hang it in a suitable corner of your home, or you can add a layer of decoration to the Christmas tree.
Holiday key chains are a great way to show your creativity, because the design has many possibilities. Customization is a brilliant idea. Similarly, this is also an idea of
your small business-to provide customers with customized key chain services. So make sure you give customers the option to add their name, picture or logo to their key chains. 
This deli tray is practical and stylish. It is a great host or hostess gift for holiday parties, or an intimate gift for those who like to entertain!
Laser engraved acrylic chess board.
Think of the wonderful experience of playing chess with family or friends on an acrylic board! With the Montbott laser engraving machine, you don't have to worry about the source of the chessboard, it can provide you with the etching function and customize the chessboard you want.
These 12 Customized gifts are just the tip of the iceberg. With Monport's laser system, you can personalize various gifts-not only for holidays, but also for the whole year. Happy laser and happy holidays!
Ⅲ Christmas home decoration with laser engraving
One of the true joys of the Christmas holidays is decorating the Christmas tree. You can create decor for uniform, minimalist-style trees — such as snowmen, snowflakes and silver, gold and red laser-cut acrylic decorations. Additionally, for people who prefer a more traditional look, you can create wood cutout angels, wise men, Santa Claus and reindeer.
Because you can cut foil using a CO2 laser, you can also make billowing tinsel in every color of the Christmas rainbow, in addition to flowing fairy's hair to hang on the trees. You can even create cutout stars and candy canes to hang on the tree.
Laser cutters work with a variety of materials, from cork to aluminum and acrylic. As such, you can create something to suit every style and color scheme. Christmas tree ornaments are unlikely to ever go out of fashion.
Laser-Cut Christmas Trees
With more people than ever living in apartments, sometimes it's just not practical to get a huge, natural tree into the home. Laser cuts wood and acrylic, so custom-built Christmas trees are another great option for a laser-cut decoration that's easy to make and that there's a huge market for.
Laser cutters engrave and etch in addition to cutting, so you can add elaborate designs or personalized characteristics to each tree. Alternatively, you can create simple, plain designs on a large scale and earn a lot of Christmas cash. At this time, you can use the engraving machine to start a small business, get fun and make money at the same time!
Few things look and feel like Christmas garlands hanging outside the home. Every year, millions of Americans dutifully hang Christmas wreaths on their doors - traditionally, people are accustomed to using paper, cardboard, aluminum or plastic to cut out the wreaths. Nowadays, in many cases, people buy a new one every year. You can freely and boldly conceive various ideas and ideas, with the help of the Monport laser engraving machine, make them a reality. You can also choose to start a business, and then add as many other elements as possible according to the preferences of the target market.
Wooden Christmas nameplate
Christmas is a time when children feel special. Adults can express their gratitude for the past year by decorating their homes and making their nests extra comfortable. This is the perfect way to spend the coldest winter in a loving and happy way. Many families put a Christmas name sign on their stockings for Santa's use. You can view the most popular U.S. names and make signs for names that will be sold. This is a major direction for you to make money with the Monport laser engraving machine!
Started to make Christmas ornaments by myself, adding handmade elements to the festive atmosphere of Christmas.If you want to enter the lucrative Christmas market, invest in Monport's laser cutting machine and start making laser-cut Christmas decorations.
With a power range of 40W-80W, there is always one that can meet your requirements to make exquisite holiday home decorations. In the joyful holiday atmosphere, you can also experience the fun of DIY! Why not join Monport to add happiness to yourself, your family and your friends?