Monport 55W VS OMTech Polar 50W Desktop Laser Cutter, Who Leads the Race?
Navigating the world of Desktop Laser Cutters can be quite challenging, especially for new buyers. When the choice narrows down to the Monport ONYX 55W Desktop CO2 Laser Cutter and the OMTech Polar 50W models, Monport vs OMTech, which brand offers better value for money?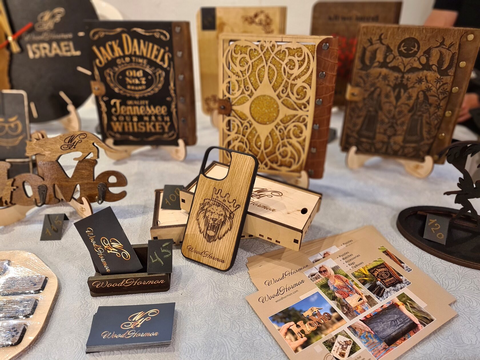 Wood Laser Engraved by MONPORT ONYX 55W
OMTech Polar has long been in the industry and has served numerous amateur laser carving enthusiasts. However, over time, the brand has faced customer service issues and a decline in cost performance. On the other hand, Monport Laser is a relatively new brand that has gained popularity for providing comprehensive customer service, superior machine performance, and competitive pricing. The brand has become one of the most sought-after laser carving brands in the market today.
We recognize that the process of choosing the perfect laser cutter can be overwhelming, with countless factors to consider and an abundance of options available. That is precisely why we have taken it upon ourselves to carefully compare these two machines for you. By delving into their respective features, capabilities, and the experiences of those who have already embarked on their laser cutting journeys, we strive to make your decision-making process a little easier and more enlightening.
Monport 55W vs OMTech Polar 50W laser Feature Comparison
| | | |
| --- | --- | --- |
| | MONPORT ONYX 55W | OMTech POLAR 50W |
| | | |
| Price | $2599 Upgraded Rotary Axis Included | $2999 Just A Machine |
| Laser Power | 55w | 50w |
| Pre-sales Customer Service | 3 free US technical support, they are all experts with laser engraving qualifications | At least $49 for technical support |
| After-sales Customer Support | 24-hour online after-sales service to solve problems quickly | No 24-hour service |
| Visit the actual machine | You can make an appointment to visit Monport space | No place |
| Warranty | 2 Years | 2 Years |
| Work Table Area | 20.1"* 11.8" | 20.1"* 11.8" |
| Max. Workpiece Height | 51mm | 51mm |
| Max. Engraving Speed | 600mm/s | 500mm/s |
| Max. Cutting Depth | 18mm (plywood) | 10mm |
| Precision | 0.001" | 0.001" |
| Expected service life | 11000 hours | 10000 hours |
| 5MP Camera | Equipped | Equipped |
| Autofocus | Upgraded Autofocus, ensuring no stuttering | Sometimes Autofocus gets stuck and doesn't work |
| Stability of the electrical part | Improved electrical high voltage protection | The machine may not be turned on or the red light remains on and blocks the process |
| Safety system | Equipped with cover opening protection, an emergency stop button, and an indicator light alert system | No safety system |
| Control Software | RDWorks(provided); LightBurn(supported) | RDWorks(provided); LightBurn(supported) |
| Trustpilot Score | 4.1 | 3.8 |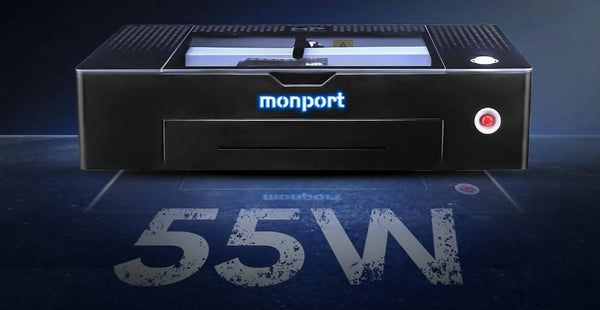 Now On Sale! Shop now and enjoy 10% off 

Monport 55W vs OMTech Polar 50W Pros And Cons
1. Customer Service and Support
The Monport ONYX 55W is a desktop CO2 laser cutter that not only offers exceptional performance but also comes with a commitment to providing top-notch customer service and support. With a team of dedicated experts, Monport ensures that customers receive the assistance they need before and after purchasing the ONYX 55W.
At Monport Laser, customers can enjoy the following services:
· Three Free US Technical Support Experts
These experts possess laser engraving qualifications of the highest standard, guaranteeing expert guidance and support for any inquiries or concerns related to laser engraving technology. Click here to enjoy personalized Tech-support one-on-one service.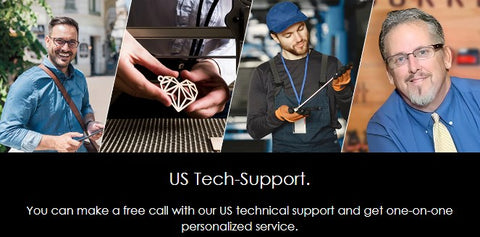 · 24-hour online after-sales service
Monport understands that efficient after-sales service is crucial to maintaining customer satisfaction. That's why the ONYX 55W comes with 24-hour online after-sales service, ensuring that customers' concerns or issues are swiftly addressed. Click here to learn more about the Monport after-sales support.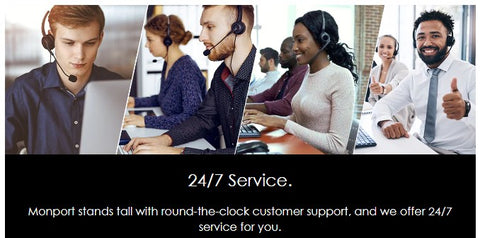 The support team is available to provide prompt resolutions, troubleshoot problems, and deliver solutions to minimize any potential downtime. Monport aims to make the laser cutting experience as smooth and uninterrupted as possible for its customers.
OMTech 50w receives criticism for its poor customer service. Many customers report experiencing difficulties with communication, unhelpful or rude representatives, and a long resolution time. Customers have also mentioned receiving inadequate or insufficient training resources and, in some instances, having unresolved issues. "The customer service agent I spoke with was rude and dismissive of my concerns.", "They don't seem to have any knowledge about their products and were not willing to assist me in troubleshooting my problem". These OMTech Polar reviews suggest that OMTech has a lot of room for improvement when it comes to customer service.
2. Efficiency and Productivity
With the Monport ONYX 55W, you can accomplish your projects in less time, thanks to its higher laser power. The increased cutting speed allows for quicker turnaround times and boosts overall productivity. Spend less time waiting for your projects to be completed and more time bringing your creative ideas to life.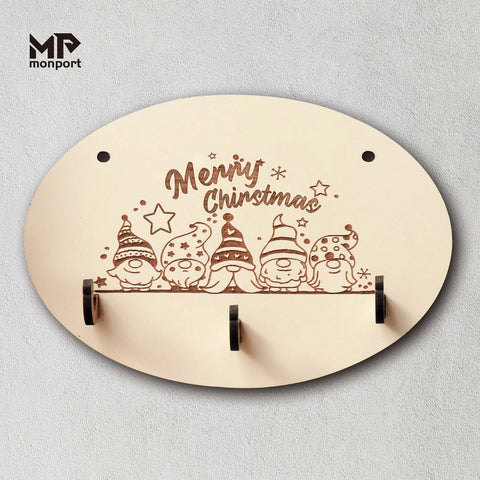 Wood engraved by Monport ONYX 55W
The OMTech Polar laser 50W has a lower engraving speed of 500mm/s compared to the Monport 55W laser engraver, which has an engraving speed of 600mm/s. This difference in speed of 100mm/s can result in slower engraving efficiency and longer production times.
3. Engraving Experience
The Monport ONYX 55W has an upgraded autofocus mechanism that ensures seamless carving by minimizing or eliminating stuttering issues during the engraving process, while the OMTech Polar 50W's autofocus has been reported to sometimes get stuck, causing delays and disruptions in the engraving process.
Moreover, the Monport ONYX 55W is equipped with improved electrical high-voltage protection to address power fluctuations and voltage inconsistencies that may impact the engraving process's quality and stability, resulting in potential work stoppages. Meanwhile, OMTech CO2 laser Polar 50W machines are reportedly prone to issues such as not turning on or a red light remaining on, potentially hindering productivity and causing delays in the engraving process.
The Monport 55W offers a smoother and more reliable engraving experience compared to the OMTech Polar 50W.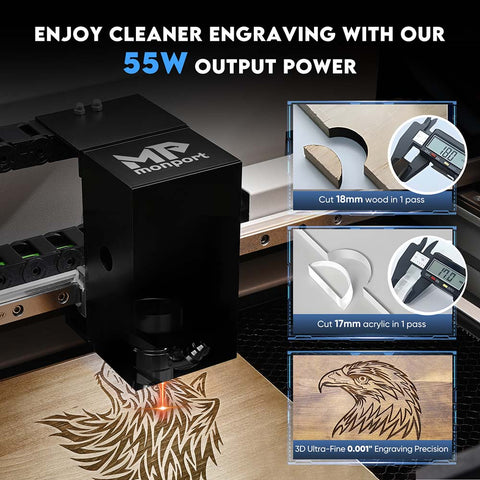 4. Safety Features
Safety is a top priority with the Monport ONYX 55W. The machine is equipped with multiple safety features to ensure a secure working environment. The automatic laser power adjustment prevents accidents due to excessive power, while the emergency stop button allows for immediate cessation of operations in case of any unforeseen situations. The ONYX 55W also features a closed-loop water circulation system that maintains optimal laser tube temperature, extending its lifespan and providing peace of mind during prolonged use.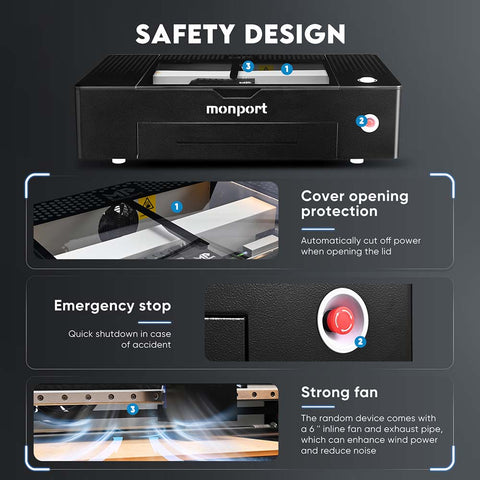 The absence of proper safety systems in laser engraving machines like the OMTech 50w laser can lead to potential accidents, injuries, and damage. Without security features such as power adjustment, emergency stop buttons, and temperature regulation, there is an increased risk of excessive power output, overheating, and unforeseen hazards. This not only compromises the safety of operators but also raises concerns about compliance with industry standards. Implementing robust safety features is essential to ensure a secure working environment and provide peace of mind for users.
Conclusion
After considering the features and specifications of both machines, it is clear that the Monport ONYX 55W is the superior choice. Its higher power level, higher engraving speed, smoother engraving experience, wider material compatibility, enhanced safety features, intuitive control panel, and excellent customer support make it an excellent investment for both beginner and seasoned laser cutting enthusiasts. The OMTech Polar 50W is a viable option for those with more limited budgets, but it falls short in terms of overall performance and features when compared to the Monport ONYX 55W.