Ruida Controller: As The Brain of A Laser Engraver
Until now, with the wide popularization of laser engraving, hobbyists and professionals have more choices for the controller of laser engraving machine than ever before. Despite the emergence of many new control systems in the market, Ruida laser controller still plays an important role in the industry known for its quality and accuracy. 
Controller like a brain, conducting the laser head, adjusting laser power and speed settings, file viewing, project framing and works well with laser software like RDWorks, Coreldraw, Auto-CAD and Lightburn. Ruida controller plays an important role in the quality and execution of engraving projects. This small but advanced microcomputer is a single interface between you and the laser engraving machine. It not only determines the control of head position and force dimension, but also interacts with the design software you choose to turn your ideas into reality.
What is a CNC Controller?
As stated previously, a CNC controller functions as the brain of a laser engraving machine. It forms a crucial link that connects the computer system to the mechanical components, thereby allowing the machine to perform a set of activities.
Consider the human body, for example, the brain interprets external stimuli communicated by sensory signals to trigger a response. Similarly, the CNC controller interprets the conditioned signals from the computer, interprets them, and initiates response through myriad functions ranging from linear motion to multi-axes action.
The primary function of the CNC controller can be categorized into the following:
Axis Control: It refers to the number of axes that the laser engraving machine  can control and the number of axes it can control at the same time.
Preparation: This function is also known as the "G" code, which commands the machine's movement modes in the form of basic motion, metric conversion, coordinate setting, plane selection, fixed cycles, and tool interpolation.
Interpolation: Software interpolation governs and actuates the tool movement trajectory. In this respect, the CNC controller plays a crucial role in matching the instructions from the computer systems with the activity performance speed. The CNC controller's interpolation rate may be coarse or fine, depending on the condition.
Smart And Upgraded Ruida Digital Controller
Ruida controllers are laser cutter controller boards with several powerful features. They are built for lasering, and run a download and execute scheme. They are natively supported by RDWorks (which is free) and supported by Lightburn (Proprietary). They have a control panel that can often display the program to be run and perform jogging operations. There have been a number of reverse engineering and supporting operations. 
Ruida laser cutting and engraving control system RDC6442G, RDC644XG are the latest generation of laser engraving / cutting control system. The control system has better hardware stability, better resistance to high pressure, and static interference characteristics. The 3.5-inch color screen based HMI operating system has a more powerful and user friendly interface. The controller includes better and more superior motion control functions with larger file storage, stronger compatibility, dual independently adjustable laser power control interface, stronger compatibility U disk driver, multiple generic/private IO control, communication with PC supports Ethernet communications and automatic optional USB communication.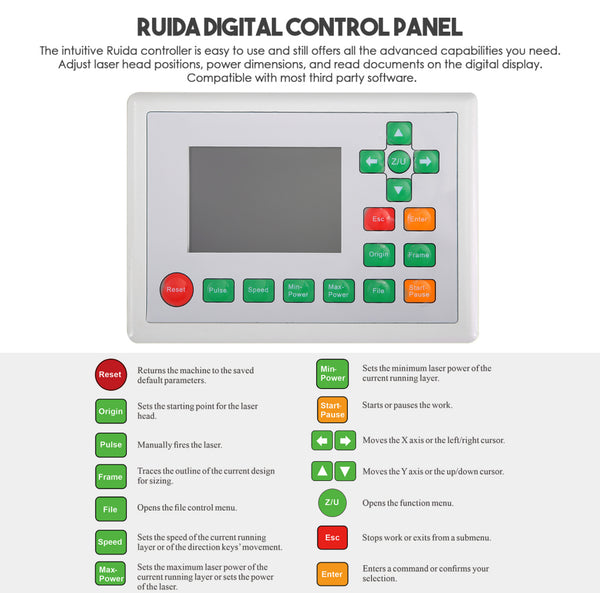 The functions of the Ruida controller of Monport industrial laser engraver(RDC6442G)are as following:
Auto-feeding, up and down, rotating engraving, left-right pushing plate, etc. Support feeding line by line, slope engraving function
Communication mode can be chosen automatically
Increase Z axis linkage function
System Power-on resetting or not resetting for optional
Support multiple positioning points logic
All manufacturer/user parameters can be backup and restored
Capable of self-checking defective track, can format memory, good in fault tolerance
Support Power-off restart for engraving, work time preview (high accuracy to millisecond, the preview time is exact to the actual working time, the other vendor cannot realize)
Support all brands and capacities of U disks, quick and strong compatible copy ability         
With the new development of science and technology industry and the continuous promotion of technological progress, Ruida controller continues to improve the quality and ability of its laser engraving machine controller. Through our laser engraving experience and research, we found that a good controller should have the following functions:
Features of Ruida controller:
This time may not be surprising; The function of laser engraving machine controller should be enhanced rather than limiting the availability of laser. Imagine having a state-of-the-art cabinet laser engraving machine, but its function is limited by the controller and its capacity cannot be fully utilized. Again and again, we see that amateurs and professionals still insist on using old and outdated controllers while upgrading their engraving machines. We don't want this to happen to you! To protect yourself from this trap, make sure that the specifications of the controller (in terms of speed, head control and power size control) meet the specifications of the laser and the machine. This may seem trivial, but it can make a huge difference! Always make sure that the laser controller you specify is used with traditional engraving design files such as SVG. The high-quality laser engraving machine in cooperation with Ruida controller will improve the results of your project, not hinder it. 
High precision LCD display  
Whether you are an old hand in CO2 engraving or just starting a laser journey, you know that the accuracy of the engraver is crucial to the success of your work. The precision of laser engraving is very high. That's why we're all here, right? If you want to make the most of the laser engraving machine, don't underestimate the importance of the controller.             
Today, the engraving community seeks details and precision control from modern CO2 laser engraving machines and Ruida controllers. As the project becomes more and more unique and complex, the accuracy of head position and power dimension is very important to the success of the project. The details and control of the engraving machine are mainly enabled or connected through the enhanced LCD display. We found that modern controllers provide high-tech screens that provide more insight and precise details for a given engraving project. New iterative controllers, such as the recently released Ruida laser controller, are equipped with powerful digital displays that transmit key information from the selected CAD environment to the controller interface itself. At the end of the day, you want your controller interface to pass as much detail as possible about your project. Then, you can rely on your controller to ensure accuracy and copy the details of the project on an easy to see LCD display. 
Extensive software compatibility
The compatibility of available software is one of the most important considerations of CO2 laser engraving machine. Today, professionals and enthusiasts use a variety of design platforms. Whether you choose lightburn, AutoCAD or CorelDRAW, you obviously need to use a controller that supports a given platform. Rdworks is also a reliable inspection program. We found that the older generation of legacy controllers often only support a limited range of design platforms. Generally, these controllers are designed to work well with one platform and are not easy to integrate with other platforms.             
On the other hand, the modern CO2 laser engraving machine equipped with Ruida controller supports a variety of design platforms. If enthusiasts or professionals decide to switch the design platform, use quality systems such as Ruida laser controller to return control to them. That's why choosing a reputable modern controller can have a huge impact on your future projects.
Ruida Technology is a specialized source of high performance motion control technology since 2008. Ruida manufacture flexible and economical solutions for motion control applications, enabling control of complex high speed automation and machine control in most industries throughout the world. Over past years, Ruida has developed generations of high performance motion control families and motion control solutions, such as PC-Based motion controllers, standalone motion controllers, machine vision, CNC system and automatic controller, tailored to customer needs and designed to meet the form, fit, functionality, and cost specifications of a wide range of applications and industries. It is widely used in laser cutting and engraving, laser marking, laser welding, and laser cleaning application field. 
By now, do you know the importance of laser controller to your laser engraver? If you want to know more about our most advanced engraving machines, please check Monport's industrial laser engraver series. Our CO2 engraving machine components are of reasonable quality and reliable price. Most Monport machines are equipped with reliable Ruida laser controllers. If you have any questions, please contact us.