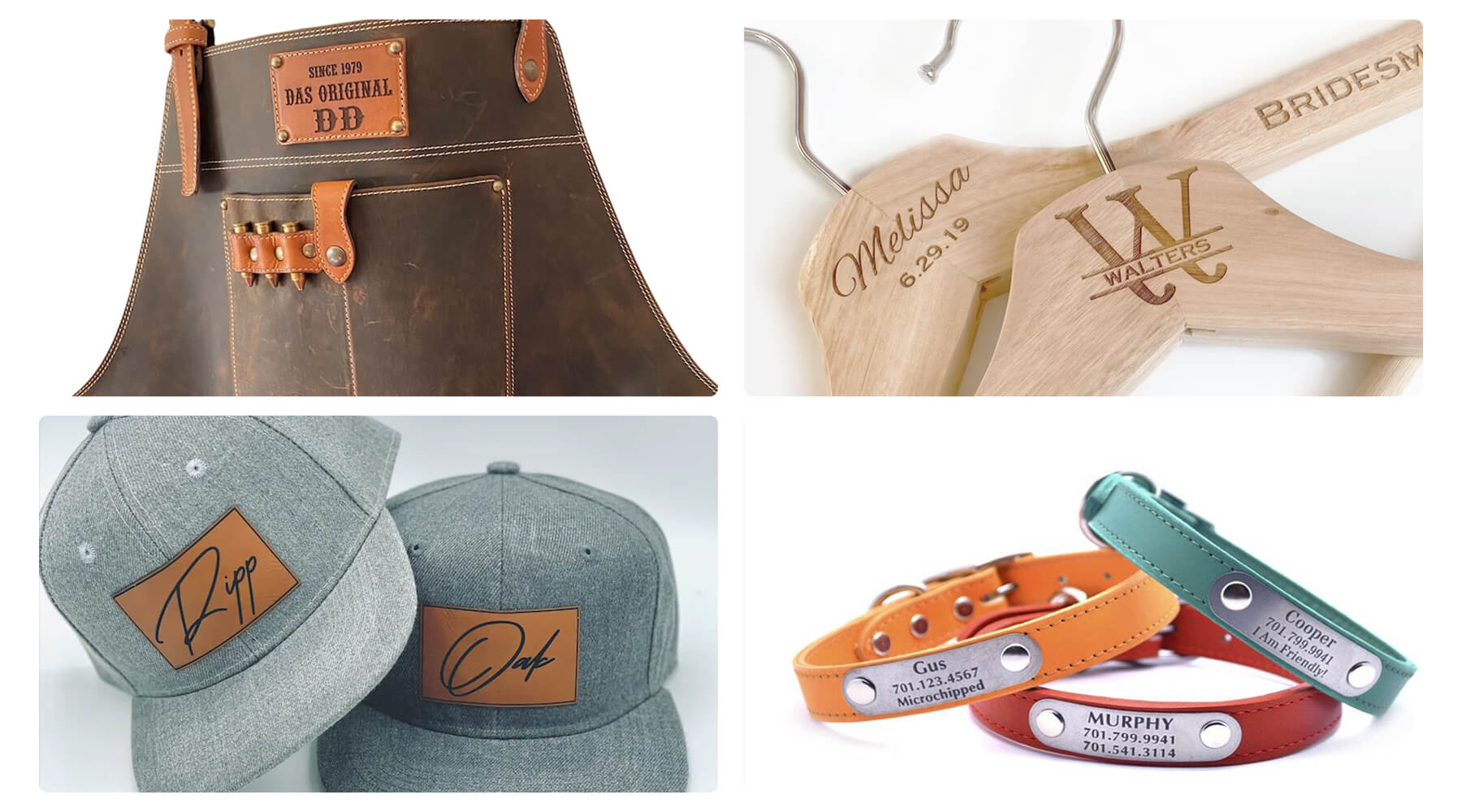 CO2 Laser Engraving in Clothing Industry
Due to the popularity of various personalized clothes, laser engraving is becoming more and more popular among fashion designers who want to create unique designs. With the development of the clothing industry, all kinds of materials can be used in clothing, not only cloth or leather, but also some other metal materials or plastic materials can be reflected in some clothing. A laser engraving machine can meet your various customized needs. Laser engraving is a good way to create a brand for your small clothing enterprises. You can use laser machine to brand your products, as well as your events. Many people use laser machine for this purpose, so don't be afraid to do it yourself!
Among the numerous clothing production machines, why is the laser engraving machine increasingly becoming the choice of many designers and niche designer brands ? The engraving process of laser cutter is better than screen printing, embroidery, heat transfer and vinyl, because it is permanent and lasts for a long time. When you use a laser cutter, your design will be burned into the fabric or leather, so it will not peel off like other types of printing. Your design will also look clear, rather than blurring or fading over time as other methods do. 
Compared with traditional patterns of printing, jacquard, embroidery and other fabrics, laser etching patterns have many advantages. The traditional fabric weaving process has high cost, complex process and high price, while the laser carving fabric pattern operation process is simple and fast. A simple pattern can be completed in 5 minutes, saving time and labor, and the cost is also low. The most important thing is that the pattern of laser engraved fabric really meets the customer's "private customization" requirements. One or two pieces can be completed immediately, unlike printing and jacquard, which generally require mass production. It is no exaggeration to say that CO2 lasers have proven to be the most suitable technology for the fashion industry.
By using a very extensive and efficient laser marking process on fabrics, you can achieve all the desired designs with millimeter accuracy. The energy efficiency and running speed of CO2 laser source are superior to any other traditional production technology, resulting in significant reduction of energy resources. In addition, this technology will only change the surface of the material, which means that no water or chemicals are needed. Compared with traditional decoration methods, laser engraving for clothing and textile industry is a more efficient, sustainable and environmentally friendly process. 
In addition, Monport laser engraver can achieve faster and more efficient carving and cutting of knitted fabrics. Laser processing is a non-contact, tool free process. In the laser cutting process, the textiles and fabrics that are cut and carved will not be contacted. Therefore, the textile will not warp due to the tearing force. The laser beam melts the material to produce a fiber free, clean and perfectly sealed edge, which is not only a neat edge, but also the whole fabric will not have deformation and other problems.
What are the specific applications of laser engraving technology in the clothing industry?
Hat leather patch laser etching
There are many shops that provide high-quality laser engraved leather patches for customized hats, etc., becoming more and more popular. You can create your own patch design with initials, symbols, logos, patterns, etc. Create your own custom leather patches from the various shapes and sizes available, and you can make an unforgettable gift for your friends and family no matter what festival it is. Pair it with a personalized hat or team kit to take your activity to the next level.
The engraving effect of this durable fabric is very good. With laser, you can make beautiful patterns in a small part of the time required for traditional embroidery. The weight of denim is different, so is the dye, and cotton may keep more moisture in some days, these variables will have different effects on the carving effect, so make sure to test the carving on the jeans.
Some small online leather shops or leather handicraft enthusiasts can provide customized services for customers through engraving machines. Laser cutting can personalize your wallet, passport folder, business card folder and other bags. This personalization can be carried out on the zipper of the bag or any other part of the product. In addition to leather bags, there are also some canvas bags that can be carved.
Classic leather dog collar laser etching
The pet accessories industry is also an extension of the clothing industry. The clothing design of these pets is also a place where laser carving plays a role. Owners usually choose to carve phone numbers or dog names on collars in order to prevent their pets from losing. Generally, collars are made of leather. The potential of the pet market is huge, The Monport co2 laser machines can completely meet your needs to create a customized permanent label for your customers' pets.
Working Principle of Laser Engraving Machine for clothing
Usually,  the laser cutter can conduct high-temperature etching on the surface of the clothing fabric through the laser beam. The yarn at the high-temperature etching part is ablated, and the dye is vaporized, forming etching at different depths, resulting in patterns or other washing and finishing effects. Both CO2 and optical fiber laser engraving machines use the thermal effect of laser to burn and etch the surface material without contact, and form convex and concave patterns. The laser engraving machine can produce artistic patterns on the fabric. These patterns can include words, numbers, signs, images, and can also be cut by other precise laser engraving processes to obtain various worn out and worn effects.
Applicable materials of laser engraving machine for clothing fabrics
The laser engraving machine is suitable for polyester, aramid, Kevlar, wool, cotton, polypropylene, polyurethane, glass fiber, spacer fabric, felt, silk, filter cloth, technical fabric, synthetic fabric, foam, wool, Velcro material, fabric, knitted fabric, mesh fabric, plush, polyamide, denim fabric, corduroy, velvet, and other fabrics. Due to the different changes of various fabrics caused by laser burning, The color of the final carved surface will also vary. Wool and microfiber will usually produce a darker appearance, while denim and strong cotton cloth will produce an almost bleached appearance. When using the Monport laser engraving machine to carve fabrics, Monportlaser suggests you try various fabrics and settings to find your favorite fabrics!
Wonderful products for laser engraving in clothing industry
The laser engraving machine is widely used in the clothing and footwear industry, such as leather, synthetic leather, artificial leather, cloth, fur and other complex characters, such as engraving, carving, hollowing, etc. The products include hats, jackets, underwear, home decoration, gloves, handbags, shoes, sports shoes, wallets, t-shirts, etc. In addition to clothing, the clothes racks necessary for various clothing industries can also be carved. You can customize your own brand logo in wood, Plastic and other material hangers. In addition to carving on the surface of the cloth, you can also cut the cloth to achieve the hollow effect,
Final thoughts
To start creating your own laser cutting clothing art project, you may need to prepare a laser cutting file that can be printed, obtain a reliable machine, and select the ideal materials for the project. This is not a simple job. It requires extra effort to practice the laser machine skills. Fortunately, you can always find the source of information and video tutorials needed to complete the work, and the results will reward all your efforts along with your laser machine!