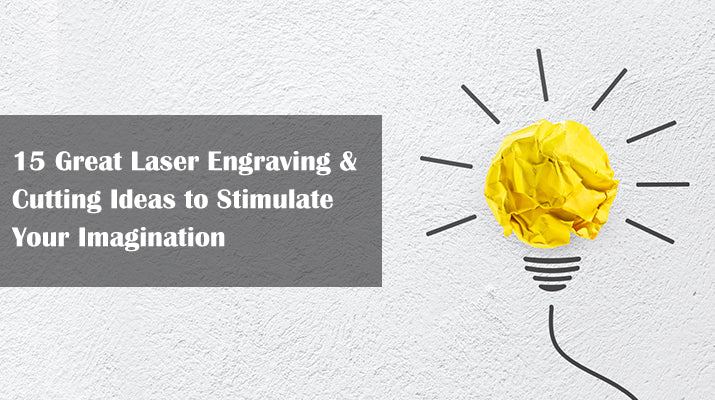 15 Great Laser Engraving & Cutting Ideas to Stimulate Your Imagination
A recent survey found that more than 75% of American adults have creative hobbies. For most people, having a hobby is their priority. With the right hobbies, you can get rid of the pressure of adult life. If you are looking for a hobby to pursue, you need to consider what you are passionate about.        
Investing in a laser cutter is a great idea for people who enjoys creating artwork for their friends and family. There are industrial engraving machines on the market designed for hobbyists. With some time and research, you can find the right laser cutter for your budget and experience level. Once you find the right laser cutter, you can start your first project. Here are some great laser cutter project ideas to help you start your engraving journey! 
Idea 1. Relief sculptures, show your exquisite taste            
Inject amazing elements into your space through unique wood engraving creativity. These clever but affordable designs blur the line between illustration and hand-made carving. This kind of art work is always attractive, indicating your attention to detail.
Idea 2. Creative murals to please the eyes of guests
If nature is calling, put together some murals related to flora and fauna. Prints like this will give a fantastic depth to whatever they are applied to. They also distinguish crafty decorative pieces from other types of artwork.
Idea 3. Innovative brand names are included in your cool engraving design            
Looking for innovative ways to display your business name? Consider these great engraving ideas to get the most exciting wooden pieces. These wooden decorative elements are always very eye-catching. We're sure you've dreamed of having an attractive wooden sign in your workplace. The following laser engraving idea will expand your imagination. 
Idea 4. Hanging items to liven up your look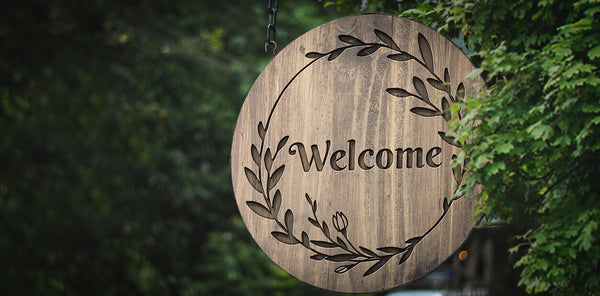 Create a rustic vibe with inviting wooden items that will make your loved ones feel at home. Hang them at your entrance and greet your guests with delightful wood engraving ideas. These charming items have great personality and are easy to incorporate.
Idea 5. Capital letters to show your company identity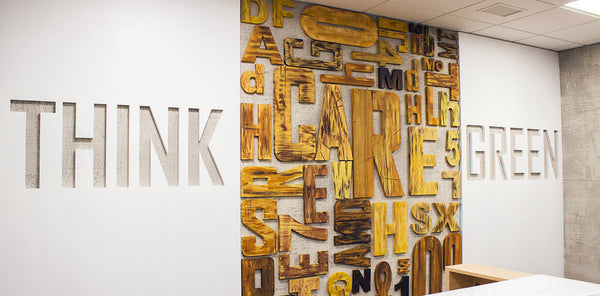 Custom laser cut projects made from wood are unique pieces that create unique effects. Precisely cut items give viewers insight into your tastes. Such a business logo maintains harmony between your business personality and trending designs. 
Idea 6. Indoor way finding signs that guide guests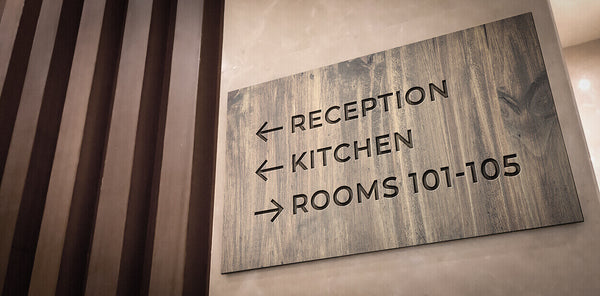 Enjoy amazing laser wood cutting ideas. Help others easily navigate through your space. Use your way finding signs wisely. Customize their designs according to your business approach.
Idea 7. Attractive sidewalk boards attract potential customers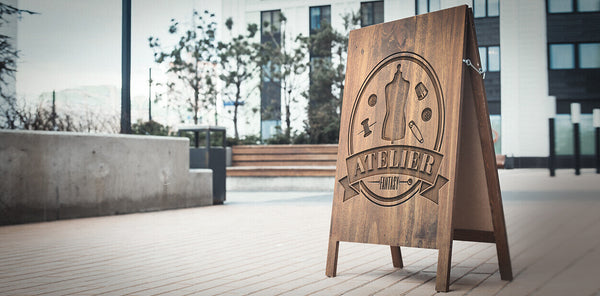 Among the many ways to invite guests into your space, choose the one that makes you stand out. Creative wooden a-frame signs are everywhere, but cool laser cutting patterns are rare. Explore your imagination and brainstorm ideas to show artistic creativity in your standing panels. 
Idea 8. Modern Flora Clock
In contrast, this magical flora modern wall clock adopts a geometric style, showing a different understanding of the natural world. In order to give it a more modern feeling, laser cutting matte black acrylic chose its smooth aesthetics.
Idea 9. Geometric Wood Relief Sculpture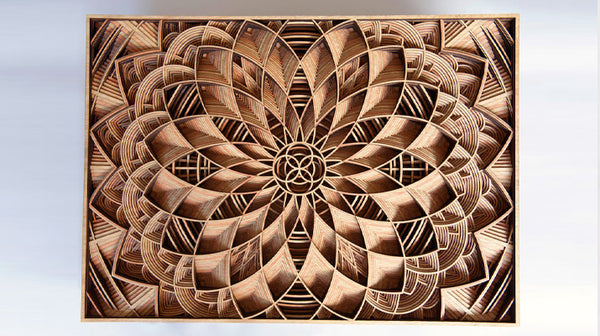 Artist Gabriel Schama uses thin laser-cut mahogany plywood to create incredibly intricate, layered wooden reliefs. He starts with vector graphics that are sent to the laser cutter. These designs were laser engraved into 1/8" plywood, which were then glued together and painted. The result is an ornately textured mandala-like artwork made up of ornate layers twisting, overlapping and intersecting. Read more about his work at My Modern Met.
Idea 10. Stacked Paper Artifacts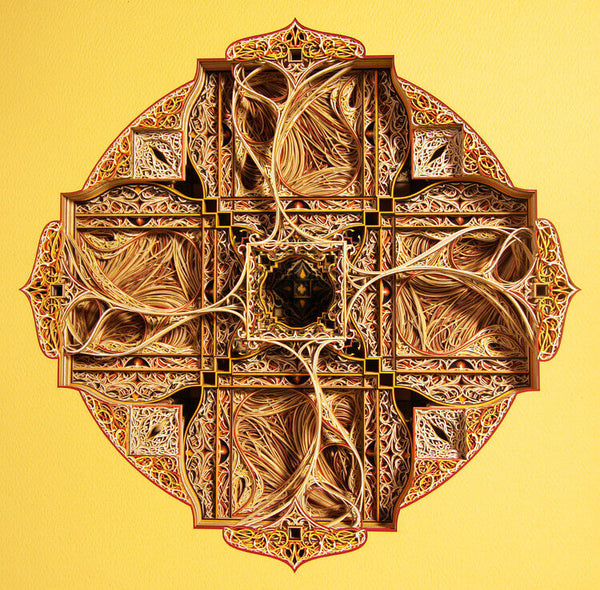 Eric Standley is an associate professor of studio art at the school of visual arts at Virginia Tech University. He uses vector based software and CNC lasers to make complex paper-cut works of art. Each layer is cut into paper by CNC laser and then stacked into finished works of art. These layers are treated as "events" in keyframes to create a conscious weaving space. Due to Eric's labor-intensive process, his works can take months or even years to create. His composition is determined by removing material from each piece of paper and pre visualizing the sum of layers into lines, colors and spaces. Instead of using elements generated by processing or algorithms, he consciously draws each line to achieve the overall goal. Eric's technology injection studio practice enables him to create complex artifacts within the precision range usually reserved for industry, mass production and scientific research.      
Do you feel the art after seeing the creativity of these laser cutting machine projects? This article will walk you through all the steps required to create a artistic product for sale.
Idea 11. Laser Cut Jewellery            
One of the best ways to use laser engraving & cutting machines is to make some custom handmade jewelry. You can make earrings, bracelets, rings, necklaces, and anything you decide. In addition to making almost all types of jewelry in the sun, you can also make jewelry from wood, plastic, metal and other materials.             
Laser engraving & cutting machines can make jewelry in any style, whether you want a pristine appearance, something more modern, or anything in between. You can design things for yourself, give gifts to others, and even sell your works on websites like Etsy. These unique and beautiful works will certainly impress anyone who sees them.
The designer uses birch to create eye-catching laser-cut designs like these diamond chevron earrings.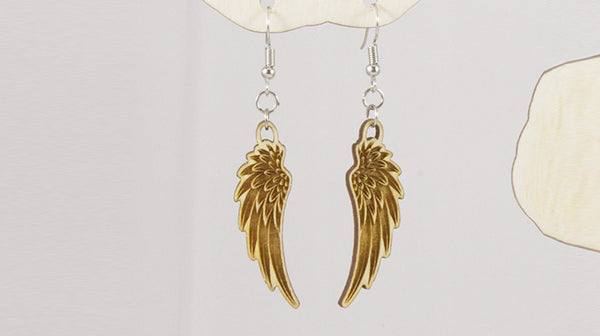 The designer combined laser cutting and laser engraving to create these winged earrings with realistic feather detail.
Laser Cut Black Matte Acrylic Pac-Man Earrings
If you want to spice up your fashion game, check out these Laser Cut Black Matte Acrylic Pac-Man Earrings
Idea 12. Ethnic Patterns
Rename's "Ethnotize" collection is a modern interpretation of traditional ethnic symbols. The famous ethnic pattern blends tradition and modernity, and the wooden base is combined with matte black and gold details to create an unforgettable personalized piece.
Idea 13. Laser Cut Wedding Invitation
When people have a wedding, they want it to be dialed in. They want every aspect of it to be perfect and unforgettable, including decoration. Although people can rent some decorations in the traditional way, laser cutting has changed some people's games. Laser cutting machine can make some truly amazing and unique wedding decorations.            
These can be invitations, table numbers, logos, business cards, and anything you can imagine. No matter where the wedding is held, you can design incredible things there. Whether you start a company to design wedding decoration, or design for friends and family, or even create works for your own wedding, this is undoubtedly one of the best uses of laser cutting machine.
Idea 14. Laser Cut Bookmarks
Whether you're voraciously reading New York Times bestsellers, following the latest business trends or reading classics, every bibliophile needs one thing: a bookmark that's as stunning as the book you're reading.
While most custom bookmarks on the market are made of wood or leather, that doesn't mean other materials can't be used. (Sounds like an opportunity for us! ) Anyway, after seeing these design ideas, you may want to buy more books! 
Idea 15. The creative tree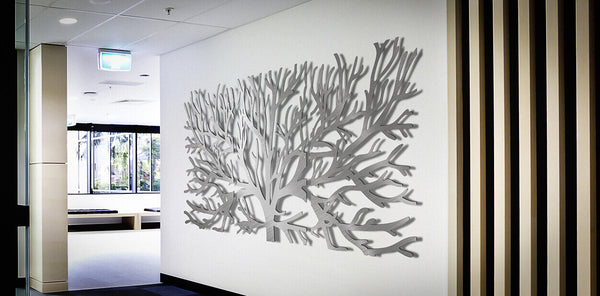 Make full use of simple metals to make them into real exhibits. Enhance interior beauty by incorporating subtle curves into this invisible element. Create a peaceful and grounded corner to ease any tension with the theme of nature.             
Everyone will choose metal design when considering the big logo of the enterprise, for a reason. Their adaptability in structure and mold makes it an essential function in all aspects. Please note that aluminum may be a less expensive way to achieve lasting design goals.
Choose these amazing laser cutting projects to achieve outstanding style. Use this exquisite technology to realize your wildest dreams. Use some ideas of laser cutting and engraving of mixed materials, which will improve your company.
Where can I get the idea of laser engraving?            
If you are looking for some laser engraving ideas for your next project, the Internet is a good starting point. Join various groups and start connecting with other individuals in the industry. Social media is a great way to see other products and get ideas for your own laser engraving projects. Pinterest also has some great ideas. If you want to seek inspiration, remember to be unique, creative and add your own ideas. For example, if you see a cat you like, try drawing a portrait in your own style to make a laser engraved gift.              
If you have many hobbies, you can join fan groups and communities.           
Brainstorm all the laser engraving ideas you might have and put them somewhere, whether on your computer or laptop. Take a special notebook with you and put all your ideas and graffiti in it!
Start making your own laser cutting machine project!             
Are you ready to start making? After seeing all these laser cutting machine projects, your creativity will flow! Use this article whenever you need some inspiration to get rid of creative stereotypes. So collect the bad boy and often come back for reference!            
And let us know what you created inspired by this article. We want to celebrate your success!            
Got ideas of your creations? We'd love to see them. Mention @MonportLaser on Twitter or leave us a message on Facebook.